I have a tendency to focus on all the problems and opportunities in front of me. To plan and plot and scheme and strive. But I'm learning, God is more concerned with what is going on within me than anything going on around me.
He's much more concerned with my growth, in wisdom and character, than any role I fill or opportunity I accept. As a result, He rarely tells me what's up ahead. Instead, He gently whispers guidance for today.
One summer, I found this particularly frustrating. I was wrestling with some career decisions, feeling as if I needed answers immediately. I wanted to follow God's wisdom, to yield to His guidance, but He appeared to be silent. Feeling discouraged and unsettled, I met with a friend for coffee.
I shared with her all my concerns, all my options, and of course, all of my confusion.
"Well," she said, "What's God saying to you?"
I sighed. "Nothing. Other than character-growth stuff."
She smiled. "Then that's what He wants you to focus on."
Later that afternoon, as I puttered around my house, tidying up (also known as allowing my thoughts to stew), realization hit. My personal growth would have far greater benefits, not just in terms of my faith and relationships with God and others, but also in relation to future success, than any momentary decision I could make.
We don't need to have everything figured out. We simply needed to follow God's guidance, trust in His wisdom, & lean into His strength.
Scripture and experience tells me my view is faulty and distorted on my best day. But God's wisdom is perfect and infinite. He knows everything I'll face tomorrow and precisely what I'll need, internally and externally, to overcome every challenge.
In His wisdom and infinite love, God was preparing me for what lay ahead. This understanding lifted my heart and stilled my swirling, chaotic thoughts. I didn't need to have everything figured out. I simply needed to follow God's guidance, trust in His wisdom, and lean into His strength.
The rest would come, in His perfect timing. And it did. With each opportunity, and endeavor, God showed me precisely what steps to take, leading me in a direction I hadn't known existed but proved far better than anything I could conceive on my own.
He'll do the same for you.
Let's talk about this! Are you in a period of waiting? Are you tempted to jump ahead, to make things work out according to your plans and wisdom? Do you trust that God truly does want to guide you toward His very best? How might focusing on that truth give you the courage to yield to Him–His timing and will? Share your thoughts with us in the comments below!
Make sure to sign up for my free quarterly emailing. As a thank you gift, subscribers receive a free, 36-lesson Bible study based on 1 Timothy (download link sent separately, in a welcome email). They also receive great content (short stories, devotionals, recipes, and more) sent directly to their inbox each quarter. You can sign up HERE.
For those wanting to learn how to more fully embrace their Christ-centered identity and rest in His grace, grab a free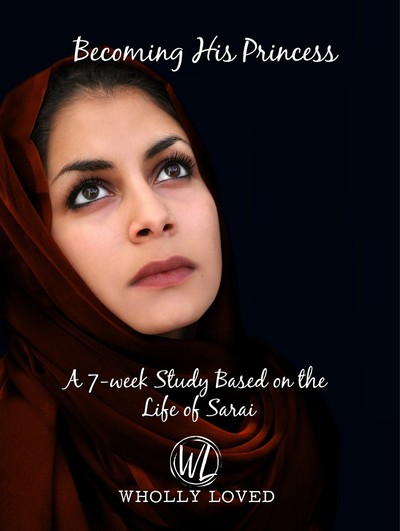 copy of Wholly Loved's Bible study, Becoming His Princess. You can do so HERE.
---