What Kind of Love -- a Mother's Look at God Incarnate
What started as a blessing turned to fear and heartache, a longing to keep the child God had given us, to hold tight to her while also preparing myself for loss. It was an emotional ping-pong match, and one that frequently initiated tear-filled prayers.
Ours was a difficult and uncertain pregnancy where, each day, miscarriage felt like an imminent reality. And where daily, sometimes hourly, in desperation, I prayed. "Lord, please, keep this child safe. Alive to term. If you do, I promise, I'll give her back to you."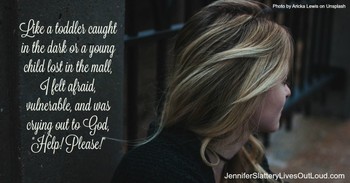 I'm not one to barter with God, but in that moment, the pain of potentially losing this precious life I'd fallen in love with from the time I discovered her existence overcame all rational and appropriate response. Like a toddler caught in the dark or a young child lost in the mall, I felt afraid, vulnerable, and was crying out to God, "Help! Please!"
I thought of this moment, of the heartache and fear, as I sat across a hospital room from a dear friend throwing up desperate pleas of her own. Her ten-year-old son, having come out of surgery but days before was facing two more painful and invasive procedures, the outcome of which was far from certain.
Teary at the thought of her precious boy in pain, I cried out to God, honestly, not wanting to think about all the child had and likely would suffer. Wishing God would take it all away, bend down and make all things right.
My thoughts instantly shifted to another mother, but perhaps fifteen years old, in the throws of labor, with no pain medication and likely no help from anyone other than her husband. This woman, who, when told of the child she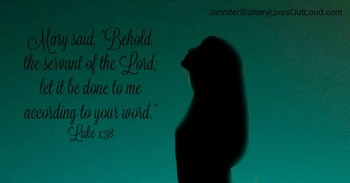 would carry, responded, "I am the Lord's servant. May everything you have said about me come true" (Luke 1:38, NLT).
When she said that, did she have any idea the deep sorrow she'd one day suffer? And as she watched Him grow, as day by day her love for Him grew, did she wonder about the prophesy spoken to her years before, when she brought the infant Jesus to the Temple: "This child is destined to cause many in Israel to fall, and many others to rise. … The deepest thoughts of many will be revealed. And a sword will pierce your very soul" (Luke 2:34-35, NLT).
Did those words come back with force as she watched her Son, the One she'd birthed, nursed, held, and raised, bloodied and beaten, being nailed to the cross?
As I thought about this, my momma's heart was triggered, broken, for my friend and her child, unable to fathom that depth of pain, knowing if I were in my friend's shoes, or had been in Mary's shoes, I would've been completely undone.
"My Son endured worse." God's words, spoken like a soft whisper to my heart, brought me to my knees, and in that moment, all I could say was "I'm sorry"—because I knew it was my sin that brought Jesus to cross.
But as true as that is, there was an even greater force that drove Jesus to Jerusalem, that caused Him to hold His tongue when offered the chance to defend Himself, that held Him to the rough wood planks when He had the power as God incarnate to call down angels to free Himself.
That force was love.
I have a tendency to get distracted by the tinsel and my cute little nativities, to view the Christmas story through a commercialized, surface-level lens.
But this Christmas, I'm reminded of what this celebration of God-incarnate, God my Savior, cost.
This Christmas I'm reminded of God's love, a love that goes so much deeper than my earthly, easily distracted mind can fathom.
A love strong enough to overcome my sin.
If you enjoyed today's post, you might also like The Imperfect Perfect Christmas and Squelching Our Inner Martha This Christmas. I also encourage you to sign up for my free, quarterly newsletter to receive devotions, short stories,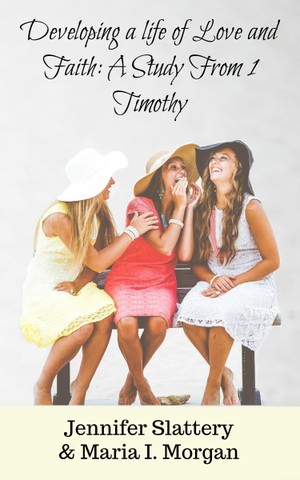 recipes, and more sent directly to your inbox. When you sign up, you'll also receive a free, 36-lesson study (ebook, sent separately) that springs from 1 Timothy. You can sign up HERE.
For those with book lovers on your Christmas list, you might want to grab a copy of my novel, When Dawn Breaks, now on sale for only $4.95! Buy it HERE!
---