Are You Listening?: A Sermon by Pastor Bob
Here is this morning's good word from my friend Pastor Bob.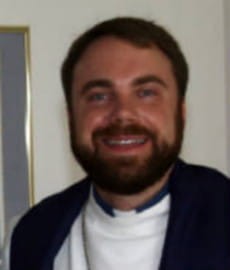 Are you listening?
A sermon by Pastor Bob
December 18, 2011
Text: Luke 1:26-38

Luke 1:26-38

In the sixth month of Elizabeth's pregnancy, God sent the angel Gabriel to Nazareth, a town in Galilee, to a virgin pledged to be married to a man named Joseph, a descendant of David. The virgin's name was Mary. The angel went to her and said, "Greetings, you who are highly favored! The Lord is with you."

Mary was greatly troubled at his words and wondered what kind of greeting this might be. But the angel said to her, "Do not be afraid, Mary; you have found favor with God. You will conceive and give birth to a son, and you are to call him Jesus. He will be great and will be called the Son of the Most High. The Lord God will give him the throne of his father David, and he will reign over Jacob's descendants forever; his kingdom will never end."

"How will this be," Mary asked the angel, "since I am a virgin?"

The angel answered, "The Holy Spirit will come on you, and the power of the Most High will overshadow you. So the holy one to be born will be called the Son of God. Even Elizabeth your relative is going to have a child in her old age, and she who was said to be unable to conceive is in her sixth month. For no word from God will ever fail."

"I am the Lord's servant," Mary answered. "May your word to me be fulfilled." Then the angel left her.
[Put on white earphones—Ipod]
–"Hang on…it's almost over…"
–A whole generation of people looks like this.
–You see them walking their dog or exercising with these.
–You see them sitting at a bus stop, reading a book at a coffee shop, or waiting for an airplane in Denver, Colorado.
–I'm always curious when I see someone with these things on:
–What are they listening to?
–Rock, Rap, Rhythm & Blues,
–Or Country, Classical or Cool Jazz?
–Perhaps a recording of a book or the latest podcast.
–But, my question for you and for all those folks is not "What are you listening to?"
–But rather, "Who do you listen to?"
–Who do you listen to?
–Who are the voices that fill your head?
–In our gospel reading a messenger of God, the angel Gabriel, shares with Zechariah and Mary that they will both have children.
–Miraculous considering that Zechariah and his wife Elizabeth are likely too old to have children!
–And Mary is a virgin—promised in marriage at an early age to Joseph.
–So you would think that when an angel of the Lord God Almighty comes to you, that you would listen.
–And it true that both Zechariah and Mary were attentive, but they had difficulty believing what God was saying through Gabriel.
–They were so caught up in their own reality, that they at first couldn't fathom the reality that God offers them.
–The reality of two children.
–One who will tell the world to prepare for the other.
–And one who will save everyone in the world so that no one can be called "other."
–It's hard to listen to the right voices, isn't it?
–Who are you going to believe? Who are you going to trust?
–Often it is easier not to listen to anyone.
[[Put on earphones again]]
–We have a generation of people who are literally "plugged in."
–And in many ways "tuned out."
–We live in a time when there is a fundamental lack of trust in the authority figures, which dominate the cultural landscape.
–Whether they are politicians who spend most of their time figuring out what people want to hear or fundamentally ignore everyone but their donors.
–Or whether it is corporate greed and corruption at the highest levels of commerce.
–Or the priests and pastors who cross boundaries that should never be crossed.
–But it was not so different in the days of Mary and Elizabeth.
–As Roman rule grew tighter and more aggressive, as temple rule became more corrupt, the Jewish communities correspondingly grew tighter and more isolated.
–Now, when we isolate ourselves a couple things can happen:
–We can begin to over rely on ourselves to the exclusion of any advice or words of reflection from those around us.
–And, our world becomes smaller and smaller.
–And we become smaller because of it.
–Finally, we may find ourselves in the midst of depression or addiction or even our own obsessive busyness that we can cease to listen to anyone, even our own heart.
–Particularly, in the case of Mary, perhaps the greatest miracle is not that she would give birth to the Son of God.
–Perhaps the greatest miracle was that she listened to that truth at all.
–A truth that would be spoken not inside her head, but through another.
–As I have walked this Christian journey of faith, there have been those moments when I have heard God's voice through the messengers of this life.
–Through the elders of a church who invited me first to be a greeter, then an usher.
–And then one day, the pastor said, "Perhaps you should think about being a pastor."
–Through a young man who was working beside me slapping stucco onto a wall of a house we were building in Tijuana, Mexico.
–He did not speak more than a few words of English, yet his smile and his hard work said everything about what we were doing together.
–Through the holding the hand of a grandmother who had just lost her husband.
–She shared with me a love that has survived 66 years of marriage.
–Through these messengers of God and many more, I have heard and experienced God's love for me and for this world.
–I ask you this morning, "Who were and who are God's messengers in your life?"
–For Mary, it was not only the angel Gabriel who was a messenger of God, but Elizabeth and an unborn baby leaping in her womb who were messengers of hope and promise.
–I truly believe that God puts people in front of us.
–At every step in this fragile journey of life.
–People who reveal God's presence to us and God's will for our lives.
–People who teach us:
–About God
–About ourselves
–About the injustices of this world
–People who challenge us
–People with whom God has the audacity to work through.
–But are we listening? Are we allowing these messengers of God to speak to us?
–Are we willing to allow their words to shape us, and not us to shape them?
–One of the great strengths of listening to music on an iPod, or some other mp3 player is that you can control everything you listen to.
–Any song you can think of is likely available to be downloaded in a few clicks of a computer mouse.
–You can then create your own favorite playlists.
–You can make your own mixes that fit a particular mood.
–You literally shape your own listening.
–But when we are listening to a messenger of God.
–Someone who God has put before us to listen to, to pay attention to.
–We are listening to someone outside of ourselves.
–Outside of our own interests and concerns.
–It may be from someone who we do not particularly like who shares a word we do not particularly care for.
–It may be a word that allows us to see ourselves in a new way.
–Certainly, Elizabeth and Zechariah, and Mary and Joseph all had to look at their lives anew.
–Any expectations of what life would look like surely changed with a few words from God—with two baby boys who would forever change everything for all of us.
–Finally, God not only puts people in front of us, but we are put in front of others.
–For if we take our calling as Christians seriously, we know that God is speaking through us.
–Through our words, our actions, and our very presence in this world.
–Although we certainly are not angels, we are God's messengers.
–We share with the world a love and peace that is not our own.
–Though we find ourselves individually broken, we share a wholeness as we worship.
–As we are caught up in a truth, in a relationship that sustains in this life and the next.
–It is enough to want to make you sing—and that is precisely what Mary does.
–We call it the Magnificat.
–It is Mary's song to the world.
–A music that comes into her not through earphones, but through her very heart.
–She sings: "My soul magnifies the Lord, and my spirit rejoices in God my Savoir."
–For this God brings mercy and justice.
–This God brings hope to us all.
---