"Prepare the Way": A Sermon by Pastor Bob
Here's today's sermon from my friend Pastor Bob. Please share with anyone who, for whatever reason, might not go to church today, or who might need this extra word of encouragement.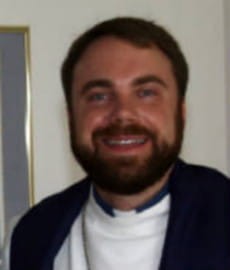 Prepare the Way
A sermon by Pastor Bob
December 4, 2011
Text: Mark 1:1-11
Mark 1:1-11
The beginning of the good news about Jesus the Messiah, the Son of God, as it is written in Isaiah the prophet:

"I will send my messenger ahead of you,
who will prepare your way"—
"a voice of one calling in the wilderness,
'Prepare the way for the Lord,
make straight paths for him.'"

And so John the Baptist appeared in the wilderness, preaching a baptism of repentance for the forgiveness of sins. The whole Judean countryside and all the people of Jerusalem went out to him. Confessing their sins, they were baptized by him in the Jordan River. John wore clothing made of camel's hair, with a leather belt around his waist, and he ate locusts and wild honey. And this was his message: "After me comes the one more powerful than I, the straps of whose sandals I am not worthy to stoop down and untie. I baptize you with water, but he will baptize you with the Holy Spirit."

At that time Jesus came from Nazareth in Galilee and was baptized by John in the Jordan. Just as Jesus was coming up out of the water, he saw heaven being torn open and the Spirit descending on him like a dove. And a voice came from heaven: "You are my Son, whom I love; with you I am well pleased."

--It was getting towards the end of the day.
--A time when the bright light of the sun softens into a deep orange.
--You know that time of day when everything glows with a warmth that lasts only a few minutes.
--If you are a photographer, it is that time of day when you take most of your pictures.
--During those few short minutes before everything cools into the darkness of the night.
--It was at such a time that a figure watched from the edge of the shore.
--He wore a robe hiked up above his knees; his feet wide apart, he was burrowing into the silt of the riverbed.
--The man was hardly distinguishable, except that he was directing other people from the shore towards his master, who stood waist deep in the cold water.
--The man looked at his master in admiration.
--He had known him for several years, which now seemed an eternity.
--For he had met his master in this exact place.
--One of hundreds who had come from Jerusalem down to the river to hear this wild man.
--A man who, like the prophets of old, wore camel's hair and preached like one possessed.
--At first, he was frightened by this preacher, this prophet who seemed to fear nothing.
--Who slandered the leaders with truth and drowned them all with new life.
--"Repent, for the Kingdom of God is at hand!" his master bellowed, his voice booming over the water and onto the shore, where the crowds sat fidgeting, waiting in anticipation.
--His master had been in the water for hours.
--His great arms taking hold of each person who, with a mixture of fear and awe, were plummeted into the waters of the Jordan.
--Only to emerge briefly, until being pushed in again.
--It was a baptism of repentance.
--It was not meant to be peaceful.
--It was a public drowning.
--The disciple continued to watch his master.
--What drew us all to this to this man and to these waters?
--What would cause so many people, from the rich to the poor, the powerful and the weak to be led here?
--Why would one subject oneself to such biting words and to the humiliation of being submerged into muddy waters?
--People came from miles around, because they perceived that within this coarse, abrasive man rested something they yearned for.
--Not just flattery to make them feel good about themselves, or philosophical words to adorn their minds, but something deeper they could find nowhere else.
--Are you hungry?
--Not just for lunch, but for something that nothing else can fill.
--Do you find yourselves awake in the middle of the night, wishing that something would change?
--Do you distract yourself with your work, or numb yourself with drugs?
--Do you seek more and more experiences to find meaning in your life?
--Are you hungry for something that money can't buy, that no relationship can quite fill?
--There is something deep within us that yearns for something more.
--Something that we cannot fill ourselves.
--I remember when I was backpacking through Europe with my friend Tom.
--We had just graduated from college, and after traveling for almost a month, we found ourselves waiting for a late night train to pick us up and take us into Spain.
--We grabbed some food and sat on a bench overlooking the Mediterranean, and watched the waves coming in.
--To our surprise, as we sat there munching away on fresh bread, a band began to setup their instruments in front of us. As the sun was setting, they began to play. They were good.
--They played a few songs, and then the words from a song by U2 they played really struck me:
--"…I still haven't found what I'm looking for"
--"But I still haven't found what I'm looking for…"
--I realized that evening that I was hungry for something that I couldn't fill with food, or a bachelor's degree, or even the friends I had made along the way.
--I was hungry for something more.
--The people on that river knew such hunger.
--The disciple knew it as well.
--The disciple watched his master; the one whom many claimed was the prophet Elijah returned to bring judgment on the people of Israel.
--Some people on the shore would even cry out to him, saying "Elijah, save us!"
--But the master would laugh at this.
--A deep laugh that would shake his whole body.
--And after this he would answer that he was only there to prepare the way of another.
--Every time he would say this, the people around him looked at him strangely.
--And though the disciple had heard it over and over, he still turned in disbelief every time.
--What could his master mean?
--What mere person could his master be preparing the way for?
--This prophet obviously served no one but Yahweh, the Lord God almighty.
--For it was only God that could fill a man with such words, with such power.
--Wasn't this baptism enough?
--To repent, to give oneself wholly over to the mercy of God?
--Surely this was all that God needed from God's people.
--But for his master, it was not enough.
--Every day he would come to this water.
--Every day he would cry out to the people, to anyone with ears to hear.
--Every day he would baptize in the name of God.
--How could it not be enough?
--To acknowledge our hunger is an amazing thing.
--It is to catch a fleeting glimpse of our human condition.
--But recognizing our hunger is not enough.
--We need someone to point us in the right direction.
--Someone who is a living symbol who points us away from death towards life.
--For you, maybe it has been your parent or grandparent or friend or even a pastor.
--For the people on that river so long ago, such a person was John the Baptist.
--He came to point a world not only to their hunger, but to prepare them for something or rather someone who would change everything.
--For John knew something so important that we must never forget.
--He knew that he was not the way.
--As the shadows of that day began to grow longer from the people in the water of the Jordan, the disciple knew it was time to find shelter for the night.
--Yet his master seemed immune from such an observation.
--There was so much to do. So many people.
--How could one person save them all?
--The disciple had also served his master long enough to realize there were even people who would come back again and again to be re-baptized.
--When would it ever end?
--And then it happened.
--Amidst the hundreds of feet depositing sandals on the edge of the shore, emerged two feet that the world would call "beautiful."
--Two hands would slightly lift a robe as this stranger waded into the water—hands that would heal and hands that would be hurt.
--Though the disciple paid no attention to his movements, he noticed that the demeanor of his master had changed abruptly.
--Something was happening.
--This was not a baptism of repentance.
--Something else was going on.
--The disciple strained to hear what was being said.
--Every nerve, every muscle fixed on this figure that unbelievably seemed both John's master and slave as he was submerged into the waters.
--Everything would change in this single act.
--Nothing could remain the same.
--Not John, not the disciple, and not this stranger who emerged dripping from waters of the Jordan.
--And certainly, not us.
--Somehow, in this season of Advent, we find ourselves joined to this story.
--Our whole selves.
--Our life experiences, our hunger, and our faith.
--Strangely appropriate, the writer of the gospel of Mark does not start his gospel account with a wriggling baby, but rather with a squirming crowd witnessing the baptism of our Lord.
--A baptism filled with the Holy Spirit.
--And a Holy Spirit that fills us now.
--God bless you in this season of Advent.
--May our hunger awaken our faith.
--May our hunger enliven us to point others to God.
--And may our hunger ultimately be filled by the presence of the Christ-child in our midst.
---