Uncover Your Hidden Light So You May Shine Bright
Kelly Balarie

---

Get all of Kelly's blog posts by email! Kelly Balarie, author (Battle Ready, Rest Now, Take Every Thought Captive), speaker, and blogger, delights in joining hands with women as they go through…

More

Updated

Apr 29, 2015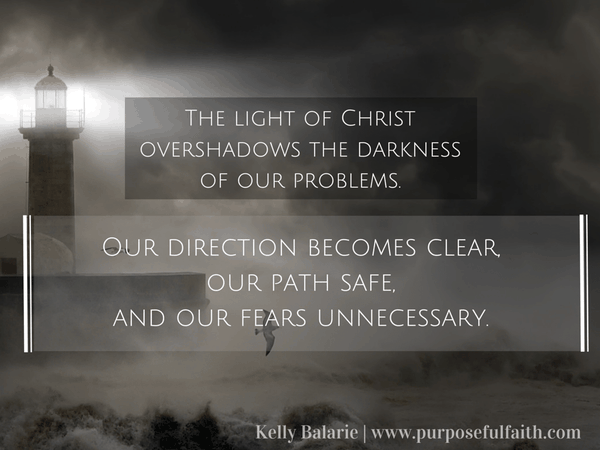 Oftentimes, all seems well in my Christian life until one small thing happens to completely knock me down.
It could be an unexpected bill.
An unexpected argument.
An unexpected tantrum.
An unexpected suspecting mole.
An unexpected heartache.
An unexpected injury.
But, no matter what kind of unexpected thing comes to tackle me, it usually takes my eyes right off the ball - right off of Jesus.
As one unexpected issue heads at me straight on, another issue comes to pound me, and then another. It's like everything is set to force me to the floor. All of life's opponents are after me.
In this moment, I wonder,
How can I keep my eyes on Christ
when all I can think about is preserving my life?
Because all I can only see the weight of the issue from this vantage point; I have no sight beyond that. I can only see the weight of things on top of me; the things that are loaded one after another, like a big pile of worry. They keep me from seeing the light. They make me feel like I am suffocating.
They avert my eyes from the light of Christ's glory and grace. They make me want to run - but their heaviness reminds me - I'm stuck.
How do I release myself from the powerful force of these issues?
Because, one thing I know, one covered, can't be shining.
One loaded under the weight of issues,
can't be radiating love and light through the earth.
Either I am uncovered by the grace of Jesus
or I am covered by the weight of worry and fear.
This truth calls me to rise above my momentary troubles. It calls me higher than defeat; it calls me to fly high to grace. To fly high above the problems that plague me to see the beauty that I hold.
Not a ball, but Jesus Christ.
And if the Spirit of him who raised Jesus from the dead is living in you, he who raised Christ from the dead will also give life to your mortal bodies because of his Spirit who lives in you. Ro. 8:11
Life is always available through Jesus Christ.
If my life is set to his playbook and I seek to run into the world with his light,
doesn't he call me to more than defensive living?
Doesn't he call me out to live offensively?
In the light? With his power? Understanding his grace?
I am being called to lay down my fears so that the love of Christ can shine into my dark places and the world's dark spaces.
You are the salt of the earth. Mt. 5:13
Then, and only then, will I be able to shine the light he gives me.
I won't be able to contain it.
I will shine it into the hearts that come against.
Into the situations that seek to tumble me.
It will shine as a beacon of his love, calling all to know and love him.
It's light will cast away my issues, and illuminate the issues of those around me.
It will light the steps towards love, verses the step towards fear.
The light of Christ makes the difference. It guides us in the way we should go. We no longer have to live defensively, because the light of Christ let's us move offensively.
The more we think of Jesus, the more we see our issues fade and his light takes over.
We can stop letting the unexpected things throw us down, and instead, let the unextinguishable light of Christ propel us forward.
God says:
You are the light of the world. A town built on a hill cannot be hidden." Matthew 5:14
Like a lighthouse set on a hill, the light of his love will not contain us. We will radiate love.
"Then you will shine among them like stars in the sky." Phil. 2:15
Like stars, our light testifies to the Creator's majesty. We will draw awe and wonder at the display of his great beauty. The presence of God is displayed through us through light.
But if we walk in the light, as he is in the light, we have fellowship with one another, and the blood of Jesus, his Son, purifies us from all sin. 1 Jo. 1:7
Light = Fellowship, unity and purity. Light draws out love and extinguishes fear.
Those who are wise will shine like the brightness of the heavens, and those who lead many to righteousness, like the stars for ever and ever. Dan. 12:9
As wise children, we shine heaven far and wide to brighten the path to Jesus. We reveal the glory of his eternal destination.
"For God, who said, "Let light shine out of darkness," made his light shine in our hearts to give us the light of the knowledge of God's glory displayed in the face of Christ." 2 Corinthians 4:6
As torch-bearers, we cast his light into the darkest pits of despair. Glory shines in places where there once was no hope.
"You are all children of the light and children of the day. We do not belong to the night or to the darkness."1 Thes. 5:5
​We stay in the day, where we are safe in his ways. We are children of the light! Our light can never be put out.
Eternal light can never be covered. It will always shine. There is no opponent who can defeat it or unexpected threat who can beat it. We always have hope.
Even more, we serve as the present day light-carriers of Jesus Christ. There is too much at stake, too much important work to do, to allow our lights to get put out. People are desperate for this light. We need this light to thrive and to revive - the world.
Uncover your light, so you may shine bright in Christ.
Get all Purposeful Faith blog posts via email - click here.
Join Kelly on her blog, Purposeful Faith, on Twitter and on Facebook.
---