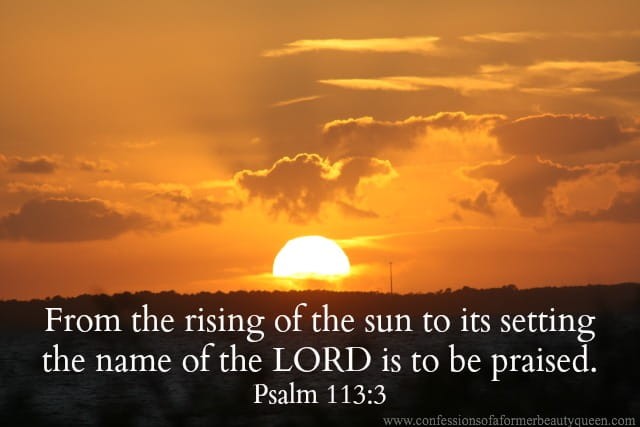 What, then is the Church in the world? It is God's institute of praise, God's institute of prayer, and God's institute of prophecy. The whole Church is first of all, an institute created to praise God… The Christian Church exists to reveal God and to utter forth His praise, to make God known to men who know Him not…Our first business is that of praising Him, praising Him with lip and with life, in the actual songs we sing, in the hallelujahs we lift; praising Him by all the habits of our life, by the perpetual testimony of our ways as they announce the fact of His being, the fact of His love.
~ G. Campbell Morgan
from "The Holy Spirit through Christ, in the Church, for the World"
---
Father, we praise You today. With hearts full of gratitude,we give You thanks as we utter these words of praise and thanksgiving.
Praise the LORD! Praise, O servants of the LORD. Praise the name of the LORD. Blessed be the name of the LORD from this time forth and forever. From the rising of the sun to its setting ,the name of the LORD is to be praised. The LORD is high above all nations; His glory is above the heavens. Who is like the LORD our God, who is enthroned on high, who humbles Himself to behold the things that are in heaven and in the earth?

(Psalm 113:1-6)

How lovely are Thy dwelling places, O LORD of hosts! My soul longed and even yearned for the courts of the LORD; my heart and my flesh, sing for joy to the living God. How blessed are those who dwell in Thy house! They are ever praising Thee. How blessed is the man whose strength is in Thee; in whose heart are the highways to Zion! O LORD God of hosts, hear my prayer; give ear, O God of Jacob! Behold our shield, O God, and look upon the face of Thine anointed. For a day in Thy courts is better than a thousand outside; I would rather stand at the threshold of the house of my God, than dwell in the tents of wickedness. For the LORD God is a sun and shield; the LORD gives grace and glory; no good thing does He withhold from those who walk uprightly. O LORD of hosts, how blessed is the man who trusts in Thee! In the name Jesus,amen and amen.
(Psalm 84:1-2,4-5,8-12)
---
This article is part of our larger Prayers resource meant to inspire and encourage your prayer life when you face uncertain times. Visit our most popular prayers if you are wondering how to pray or what to pray. Remember, the Holy Spirit intercedes for us and God knows your heart even if you struggle to find the words to pray.
Prayer for Healing
Prayer for Strength
Prayer for Sick
Morning Prayers
Thanksgiving Prayer
---