Author Says City Streets Are Paved With Grace
Allie Martin and Jenni Parker

Agape Press

2004

14 Feb

COMMENTS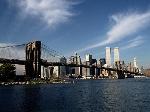 The pastor of a church in lower Manhattan says even though there are many problems and obstacles when it comes to ministering in the largest city in the United States, there are also many opportunities to show the hope found only in a relationship with Christ.
In his book, Mercy Streets: Seeing Grace on the Streets of New York (Broadman & Holman, 2003), Taylor Field shows how God works in the urban jungle of the Empire State. Besides being an author, Field is pastor of New York's East Seventh Street Baptist Church (graffitichurch.org), an institution that has been doing ministry in lower Manhattan for three decades.

The pastor, who has served not only in New York but in other urban communities in places like Berlin, Hong Kong, and San Francisco, says ministering  in the inner city presents both challenges and opportunities.
Field notes that Psalms describes the city as being closely compacted together, and he says that if one looks at the various elements that make up the urban scene through the eyes of Christ, then one's own vision can be transformed by intimations of grace everywhere.
"Take some of those parts of the city -- the concrete, the homelessness, the trees, the animals, the walls -- and see those through the eyes of Christ," Field says. "And of course the major thing is the people. If people are precious in God's eyes, then the city must be a very precious place."
In Mercy Streets, Field relates and reflects upon many of these parts that make up the whole of the urban ministry experience, and the author admits that he has at times found ministering in lower Manhattan particularly overwhelming. But he says this problem is not uncommon, and it can be overcome.
"I think really, honestly, when people are doing community service or working in the inner city... it's usually the same problems," Field says. "I think that's one of the things that Satan does -- he tries to overwhelm you, hit you on seven different sides at one time. And one of the challenges is, 'Okay, I'm going to deal with the person right in front of me.'"
East Seventh Street Baptist Church works within New York's inner city to provides numerous services and programs through an outreach known as Graffiti Community Ministries. The history of this vibrant congregation has been detailed in another book by Field with co-author Jo Kadlecek, titled A Church Called Graffiti: Finding Grace on the Lower East Side (Broadman & Holman, 2001).

© Agape Press