SBC Invites Churches to Rise to Great Commission Challenge
Allie Martin

Agape Press

2005

25 Jan

COMMENTS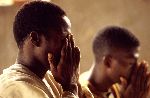 The nation's largest evangelical denomination is encouraging its churches to have a plan to take the gospel to the community, state, continent, and the world. The initiative known as the Acts 1:8 Challenge takes its inspiration and purpose from Christ's words to his disciples as he commanded them to be his witnesses "to the ends of the Earth."
The International Mission Board of the Southern Baptist Convention is spearheading this mission challenge to local churches. IMB President Dr. Jerry Rankin says the objective of the initiative is clear and simple: to motivate people to capture Christ's vision of reaching the entire world and be personally engaged in the effort.
"The Acts 1:8 Challenge is a challenge to the churches to respond to that vision and realize that we as a denomination -- and even the International Mission Board -- exist to facilitate local churches being directly involved in our mission task," Rankin says. Through the challenge, the IMB hopes to encourage U.S. churches to increase participation in short and long-term mission trips, take part in church planning, and involve more members in intentional, culturally relevant evangelism.
According to the IMB president, congregations that expand their national and international outreach tend to see big differences in their ministry endeavors at home. "We find that many churches testify that they really become more involved in local witness and outreach after going on an international mission trip," he says. "Somehow they're just more sensitive and aware of the lostness and what they can do to reach the people around them."
The Acts 1:8 Challenge is based on the scripture passage in which Jesus said to his disciples, "But you will receive power when the Holy Spirit has come on you; and you will be my witnesses in Jerusalem, in all Judea and Samaria, and to the ends of the Earth." In terms of the initiative, "Jerusalem" corresponds to the local Baptist association, "Judea" to the state convention, "Samaria" to the North American Mission Board and "the ends of the earth" to the International Mission Board.
In accepting the challenge, Southern Baptist congregations commit to embrace a comprehensive missions strategy in partnership with associational, state, national and international missions. Rankin hopes the initiative will provide a unifying framework in which the church will learn to approach missions with "a servant heart of empowering, enabling and facilitating one another" as well as with a new level of cooperation.
International Mission Board (http://www.imb.org)
PHOTO by IMB: Cotonou, Benin: An ex-Muslim Bible study. This is an experiment to see if Muslims will better understand their salvation if they continue to worship in the same style as they have always known, instead of conforming to the Western traditional worship style. The only major difference is that they are worshiping Jesus and not Allah.