The Enduring Message of Ravi Zacharias
Dr. Michael A. Milton

Author

2020

20 May

COMMENTS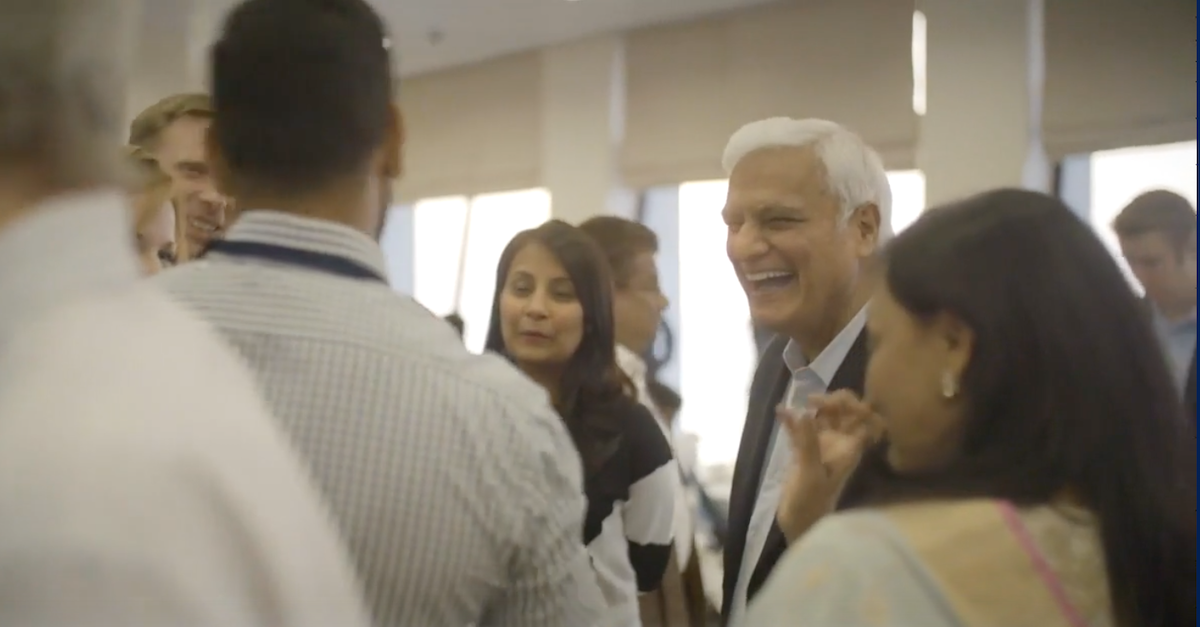 The evangelist, Reverend Ravi Zacharias, has died. Once, when he was a little boy in India, an astrologer read his palm. He declared, with immodest certainty: "Ravi Baba (Ravi, little boy), you will not travel far or very much in your life" (RZIM, 2006).
Ravi proved the religion of that prophecy to be nonsense. However, Rev. Zacharias never spoke of that man as anything less than merely confused. The truth is, of course, that Ravi Zacharias traveled around the world many times. An ordained minister in the Christian Missionary Alliance (CMA), Ravi became the foremost Christian apologist of his day. It is fitting to show honor unto whom honor is due (Romans 13:7). I want to do so by presenting a Scripture and a question.
"And I heard a voice from heaven, saying, 'Write, "Blessed are the dead who die in the Lord from now on!" 'Yes,' says the Spirit, 'so that they may rest from their labors, for their deeds follow with them'" (Revelation 14:13).
What deeds will follow Ravi Zacharias?
The Defense of the Gospel of Jesus Christ Is Worth a Lifetime of Service
The deeds of Ravi Zacharias begin, and ended, with what he spent a lifetime doing: defending the Christian faith. It may be that Ravi Zacharias will be recalled by the Church as one of the most eloquent apologists since C.S. Lewis. His apologetic (the method of defending the Truth) was a consistent blend of drawing attention to a plain observation of absolutes to support the supernatural nature of the Bible. Thus, Ravi was as comfortable in the world of philosophy, marshaling forward an idea of René Descartes (1596–1650) or Immanuel Kant (1724–1804) to demonstrate a point of truth, as he was with St. Paul's Epistle to the Romans. In this sense, Ravi Zacharias was a public theologian, whose arguments for the rationality of Christianity became respected by even the most ardent skeptic.
For those of us who have lived over six decades and have experienced the ebb and flow of faith in the public square, we know that there was a time when Christian preachers were simply not considered erudite enough to debate and provide a reasoned response to atheism or skepticism. Then God gave us Ravi Zacharias. Ravi, born in India, and, thus, having grown in a world where religion was as much a part of daily life as eating or sleeping, gave secular Westerners a bit of cold water in the face: wake up; religion is everywhere, and you cannot deny it any longer. Religion, that is, a system of beliefs grounded in a worldview, that provides an existential and moral framework for the world is as common to a twentieth-century American businessman in Chicago as it is to a twenty-first-century Indian in Chennai. While opening our eyes to the inconsistencies we hide to protect our self-interests, he would, then, force us to see the place and meaning of absolutes in the world. Ravi Zacharias was masterful at revealing masks, and, without being insulting, showing how they must be removed. In this, he followed C.S. Lewis, a frequent source for Zacharias, in showing that we cannot speak truthfully "till we have faces" (Lewis, Till We Have Faces, 1956).
The unmasking approach he employed was severe without being sardonic, and intentional without being invasive. More than that, the method was effective. For in establishing our undeniably naked position, and exposing our indefensibly narcissistic acts, Ravi Zacharias introduced the story chronicled in the Scripture. There, in the divinely-delivered text that stands out from the sacred texts, so-called (that avoid the tragic and flawed human condition that Zacharias proved), Ravi presented the compelling Story of Stories. The God we avoided, the One we denied in order to design our own world, has spoken. The message of Ravi Zacharias is as crystal clear as Billy Graham's simple John 3:16 message. Indeed, Ravi Zacharias was, in some ways, a fruitful extension of the ministry of the late Reverend Graham. For in 1983, he was chosen by Billy Graham to open the first International Conference for Itinerant Evangelists ("Amsterdam '83"). Ravi's defense of the Gospel always ended with the verse that he says became the defining declaration of his life and ministry: "Jesus said to him, 'I am the way, and the truth, and the life. No one comes to the Father except through me'" (John 14:6 ESV).
What deeds did Ravi Zacharias deposit in this world? He defended the Gospel with a clear, compelling presentation of Jesus Christ for almost fifty years.
The Debate over the Truth of Jesus Christ Is Won with a Legacy of Love
Ravi Zacharias engaged people, whether a Hindu shaman in New Delhi, or a liberal pseudo-intellectual in New York in the same way. He demonstrated, with the epic verse of Milton, or elegies of Donne, that humanity is in need. He presented a Christ who did not condemn any but the defiant, unbelieving self-righteous, and who "so loved the world" (John 3:16) that He came to us while we were yet sinners (Romans 5:8).
This winsome presentation of the gospel from a soft-spoken, Indian gentleman, whose calming smile and disarming presence was a divinely-designed instrument that allowed him to speak truth in love (Ephesians 4:15). His way of sharing the Good News of Jesus Christ captured the heart of an Oxford graduate student as well as the outcast little girl in Bangladesh. Ravi Zacharias spoke not only truth, but "grace and truth" (John 1:17).
When Jesus told St. John, in Revelation 14:13, that those who died "in the Lord," will have their deeds to follow them, he was saying that the believer's works do not save him but rather demonstrate the activity of Christ in him. Matthew Henry said it better:
"Their worlds follow them; they do not go before them as their title, or price of purchase, but follow them as their evidence of having lived and died in the Lord; and the memory of them will be pleasant, and the reward glorious, far above the merit of all their services and sufferings" (Henry, Commentary, Rev. 14:13).
Ravi Zacharias is a living legacy of this truth. His faith in Christ is his biography. His labors in the gospel are the evidence of a life well-lived. By the transformative power of God, one life touched millions of others so that there will be countless souls safe in the arms of Jesus when He comes again (1 Thessalonians 2:19-20).
This is a message—this is a man—whose deeds do follow him. For such a life, for such a labor, and for such an enduring legacy, we surely give thanks to God.
Sources
Crossway Bibles (Ed.). (2007). ESV: Study Bible: English standard version (ESV text ed). Crossway Bibles.
Lewis, C. S. (2017). Till We Have Faces: A Myth Retold. HarperOne.
Ravi Zacharias International Ministries. (2020). RZIM. https://www.rzim.org/
Photo credit: ©Rzim.org
---
Michael A. Milton, Ph.D. (University of Wales; MPA, UNC Chapel Hill; MDiv, Knox Seminary) Dr. Milton is a retired seminary chancellor and currently serves as the James Ragsdale Chair of Missions at Erskine Theological Seminary. He is the President of Faith for Living and the D. James Kennedy Institute a long-time Presbyterian minister, and Chaplain (Colonel) USA-R. Dr. Milton is the author of more than thirty books and a musician with five albums released. Mike and his wife, Mae, reside in North Carolina.