Coming Soon: Desperation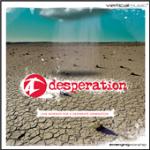 Through an annual conference known simply as "Desperation," hundreds of young people are finding the inspiration to not only seek God through prayer for the salvation of their generation, but to become the answer to their own prayers by dedicating their lives completely to the fulfillment of the Great Commission. Held at the New Life Church and World Prayer Center in Colorado Springs, CO, the Desperation conference has grown out of the church's collegiate ministry and prayer service, "The Furnace." Together, The Furnace and Desperation have fostered a team of impassioned worship leaders and songwriters who lead students in life-changing sessions of intense prayer and praise.
Integrity Music is bringing the conference's powerful live worship experiences to a national audience on Desperation, the album.  Recorded live at Desperation 2002, the project features eleven cuts of extreme, passionate worship written and performed by three of the conference's music leaders -- Jared Anderson, Jon Egan and Glenn Packiam.  Remixed and re-mastered for New Life Church by Desperation Conference director David Perkins and pastors Ted Haggard and Ross Parsley, the album also features beautiful background vocals from Doxology Records recording artist Shannon Wexelberg.
The album includes guitar-driven worship choruses like "I'm In Love With You," "Until My Breath Runs Dry" and "We Lift You Up;" gentle vertical ballads such as "Friend" and "Rescue;" the upbeat title track, and six other fervent songs that will foster collective worship and active response.