In Review: All The Earth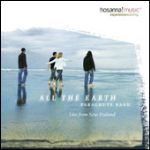 CD: All The Earth
Artist: The Parachute Band
Label: Integrity Music
Quote: "I love to see people responding to God in that atmosphere of worship...seeing them open up to Him. His touch on their lives is like watching a miracle take place before you." —Libby Huirua of The Parachute Band
FYI: All The Earth, The Parachute Band's first LIVE album, was recorded at the festival from which the band takes their name with nearly 25,000 believers gathered in worship. TPB has won three New Zealand Music Awards for "Best Gospel Album" since their debut in 1996.
The Bottom Line: It's rare indeed when a worship band with this kind of passion, energy and God-given leadership abilities is also blessed with a tremendous gift of musicianship and songwriting. But that's exactly what The Parachute Band is…a triple blessing. All The Earth features, for the first time, many of the songs TPB has long been known for in their home country, served up live. If you've been looking for fresh new songs that declare the glory of God in profound, moving ways, this is the ticket.
Featuring: Featuring 13 songs including "All the Earth," "Amazing," "Jesus," "High Above," "Complete," "To Live is Christ," "Everything That Has Breath," "Shout" and more.
—Chris Davidson