In Review: Songs From the Bennett House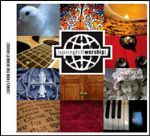 CD: Songs From the Bennett House
Artist: Various
Label: Spring Hill
Quote: "If genuine worship music is the point, then Bennett House succeeds where many other high-profile albums have fallen short. 3.5 stars (out of five)." —Russ Breimeier, ChristianityToday.com
FYI: Spring Hill began branching out of their original southern gospel focus in 2004 with the launching of their new rock imprint, Slanted Records. This new imprint, Spring Hill Worship, was developed with Christian music pioneer, Rick Cua. Songs From the Bennett House features all original songs from Cua and Christian music veterans Joe Beck and Billy Sprague. It bares the name of The Bennett House Recording Studio, in Franklin, Tennessee, which has been the choice of many famous artists including Amy Grant and Michael W. Smith.
Bottom Line: The fact that all the songs on this enhanced CD are original and written by established and respected songwriters will cause audiences to sit up and take notice of this newest offering from Spring Hill. Worship leaders and congregants alike will be inspired by new and challenging lyrics, but find something familiar in many of the music styles. If you're looking for great new songs for your congregation or simply an inspirational worship album that will keep your heart focused on the Lord, you can't go wrong with Songs From the Bennett House.
Features: Nine songs with chord charts and lyrics, including "Unfailing Love," "Bread Has Been Broken," "Speak to Me," "My Offering," "Mercy Seat," "Redeem My Days," "Songs Of My Surrender," "Shelter Me," and "Adoration." Features the vocal talent of: Jeff Deyo, The Katinas, Scott Krippayne, Charity Von, Bruce Carroll, Jill Phillips, Kate Minor and others.
—Patricia Richards