In Review: Wherever You Are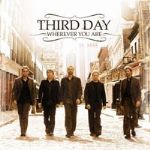 CD: Wherever You Are
Artist: Third Day
Label: Essential/Provident
Quote: "The band's finest moment and one of Christian rock's best releases in recent memory." —Amazon.com
FYI:"Cry Out To Jesus," the first single, has been nominated for the 2006 Gospel Music Award's "Song of the Year."
Listen to song clips or buy Wherever You Are from Songs4Worship.com!
The Bottom Line: No other band in Christian music delivers roots-rock and lyrical integrity like perennial favorite Third Day. So after a difficult year of personal and professional struggles and losses, fans eagerly anticipated the album that would emerge. Wherever You Are, 3D's 8th release finds them in a contemplative, worshipful place. A place of honesty and hope. "We want to convey that wherever you are, whoever you are, whatever you are going through, God is ready to meet you right there," says lead singer Mac Powell of the albums' intent. Produced by Brown Bannister and Third Day, Wherever You Are will encourage people from all walks of life—especially anyone walking through the valley.
Featuring: 12 songs including "Tunnel," "Cry Out To Jesus," "Communion," "Carry My Cross," "Mountain of God," "Love Heals Your Heart" and others.
—Chris Davidson