In Review: WOW 2006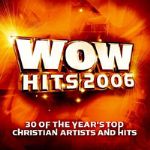 CD: WOW Hits 2006
Artist: Various
Label: EMI/Provident/Word Entertainment
Quote: "Probably the best compilation to date in the series' history, whether for new listeners to Christian music or wanting a recap of 2005's biggest hits."—ChristianityToday.com
FYI: The WOW series celebrates its 10th anniversary this year.
The Bottom Line: Once again, the WOW Hits collection gathers the year's top songs in Christian music and puts them in one place, WOW Hits 2006. Twelve of these songs reached No. 1 on the radio, 10 songs hit the Top 5 and the songs from Bethany Dillon, Audio Adrenaline, David Crowder*Band and Amy Grant are currently moving up the charts. And this year's Hits does a fine job of capturing the music from every genre.
CD features: The 30-song collection includes inspirational and worship-filled songs like "Voice of Truth" (Casting Crowns), "Holy Is the Lord" (Chris Tomlin), "Healing Rain" (Michael W. Smith), "Much of You" (Steven Curtis Chapman), "Presence" (Newsboys), "Take You Back" (Jeremy Camp), "God Will Lift Up Your Head" (Jars of Clay), "Strong Tower" (Kutless), "Here Is Our King" (David Crowder*Band) and "You're Worthy of My Praise (Big Daddy Weave with BarlowGirl).
DVD features: Chris Tomlin, David Crowder Band, tobyMac, Shawn McDonald, Kids In The Way, Relient K, Out Of Eden, John Reuben, Grits, Jeremy Camp, Kutless, Hawk Nelson, Michael W. Smith, Third Day, Casting Crowns, MercyMe, The Afters, Todd Agnew, Disciple, Inhabited and Stellar Kart.