Pick of the Week: Alive in South Africa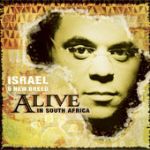 Artist: Israel & New Breed
CD: Alive In South Africa
Label: Integrity Music / Epic / Sony
Quote: "This CD is the culmination of all the incredible experiences we had while in South Africa. The people of South Africa are precious, and we were so blessed by the joy and faithfulness they showed us, and it definitely made this recording experience the most meaningful I've ever been associated with." —Israel Houghton
FYI: Israel & New Breed will tour this fall with gospel favorite Yolanda Adams. The DVD, songbook and performance trax for Alive In South Africa will be available in December 2005.
The Bottom Line: Although Israel Houghton & New Breed have been around since the mid 1990s, it wasn't until Live From Another Level in 2004 that people began to sit up and take notice of this formidable Texas ensemble. In 2005, the awards started flooding in—Stellars, Doves and even a Soul Train Music Award for Best Gospel Album. So when 2006 rolled around, what could possibly top all that? A memorable trek to South Africa. People say that a trip to Africa will change your life, and after one listen to Alive In South Africa, you'll believe it. Recorded live over two days, with standing room only audiences at His People Center in Cape Town, Alive In South Africa features acclaimed jazz artist/songwriter and South African native Jonathan Butler and local Cape Town musicians on 20 amazing songs of praise. Indigenous and multi-cultural but easily adaptable to churches of any size and background, Israel & New Breed have moved from another level to "the next level" with this inspiring album.
Featuring: 2 CDs with 20 tracks, including: "Alive," "Favor of the Lord," "Everything Must Turn," "Not Forgotten," "He Knows My Name," "Still Standing," "Holy Ground" and many more.