Pick of the Week: He Is Exalted: Live Worship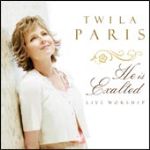 CD: He Is Exalted: Live Worship
Artist: Twila Paris
Label: Integrity Music
Listen to samples or buy this album from Songs4Worship.com!
Quote: "In more ways that one, it feels like she's coming full-circle here. Similar to when Michael W. Smith recorded his hugely popular Worship albums, Paris sounds comfortable leading her audience in congregational singing, as if she was meant to do this all along." –Christianity Today Online
FYI: Twila fans will be especially interested in the bold, new interpretations of "God Is In Control" and the title track, "He Is Exalted." The album also includes Robin Mark's "Days of Elijah" and Lenny LeBlanc's "We All Bow Down."
The Bottom Line: The intimacy and energy of He Is Exalted is something that could only be realized in a live setting. Each song captivates, drawing listeners away from the cares of this world. And at the same, this one-of-a-kind project offers vibrant, new songs for corporate expression, appropriate for traditional, blended and even more modern worship settings. For Twila Paris, who has carved out a place at the forefront of contemporary worship, He Is Exalted: Live Worship is a wonderful and personal reflection of a new season of growth, not only as an artist but also as a worshiper.
Featuring: "Lifted Higher," the album's contagious opener, sets the tone for the entire effort. "There's not a compelling 'story behind the song' here, not even really a specific reading of scripture behind it" Twila says. "It's just a very honest 'from the heart' moment of worship that happened as I was driving the car. Very simple, very singable and heartfelt." The seven new songs that follow—"Hosanna," "All Things Work Together," "Messiah" "Enter In," "You Are Holy," "We Have Seen Your Glory" and "Hold Me Close"—are as powerful and personal as anything Twila has ever written.
—Chris Davidson