Pick of the Week: iWORSHIP Next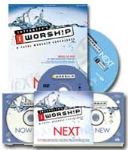 CD: iWORSHIP Next
Artist: Various
Label: Integrity
Quote: "Not only do we have the best songs and artists, we've tried to offer cutting edge features that demonstrate our commitment to making iWorship a total and fresh worship experience"- Chris Thomason, Sr. VP of Integrity Label Group.
FYI: iWorship Next features several bonuses, including a free DVD with videos for "Days of Elijah," "All the Earth Will Sing Your Praises" and "Creator King," and a special ring tone promotion entitling the user to choose three free ring tones that are versions of songs from the CD.
Bottom Line: iWorship Next contains two discs: NOW features the worship songs that are most popular right now and NEW has songs that are new favorites on Christian radio and in the church. So it almost goes without saying that there's something here for everybody. But…if you love worship music, there's something here for everybody
Features: Agnus Dei (Michael W. Smith), My Redeemer Lives (Philips, Craig and Dean), Famous One (SONICFLOOd), I Can Only Imagine (Kathryn Scott), I Love You Lord (Jason Morant), Everyday (United), Lord I Lift Your Name on High (Jonathan Butler), Refiner's Fire (Brian Doerksen), Here I Am to Worship (Eoghan Heaslip), Shout to the Lord (Darlene Zschech), Friend of God (Israel and New Breed), Fields of Grace (Darrell Evans), Sweeter (Lakewood Live), Blessed Be Your Name (Robin Mark), Cannot Say Enough (MercyMe), Offering (Paul Baloche), Thank You Lord (Don Moen), I Will Rise Up (Todd Warren and the Maranatha! Singers) and many more.
Save up to $19 on sets! Order Integrity's iWORSHIP NEXT CD and Songbook! And add Integrity's iWORSHIP Volumes 1 & 2 CD and Songbooks featuring up to 69 more worship songs!