Pick of the Week: Tim Hughes' When Silence Falls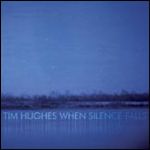 Title: When Silence Falls
Artist: Tim Hughes
Quote: "Can contemporary worship songs focus on the transcendent aspects of God and be personal and intimate? Tim Hughes thinks so, and When Silence Falls does both well. …A real gem that touches the heart with honesty and hope." — pastor/author and contributing reviewer Robb Redman, in Worship Leader Magazine
"I've been thinking a lot about how many of the songs we sing in church are about how good God is; how faithful God is; how wonderful it is to know God. But when you read through the Psalms, there are hundreds of references to life being hard and full of pain…I tried to express some songs that look at that aspect of worship, that say, 'You are good,' but from a place that is hard, where there is pain."—Tim Hughes
FYI: British artist Tim Hughes may forever be known for writing "Here I Am To Worship," currently the #1 song on the CCLI chart that monitors modern church music performance. 45 million people in North American congregations alone have sung the song.
Despite his young age, Hughes is already one of the most knowledgeable, active worship leaders around today. He is a full time employee of the Soul Survivor church in England, where he leads and writes congregational songs, and also travels on the church's behalf, encouraging worshippers around the world, from Malaysia to Australia, from South Africa to the United States. 
The Bottom Line: Defining as the impact of "Here I Am To Worship" may be, it should not overshadow Hughes' long awaited second album, When Silence Falls. To his credit, the 26 year-old doesn't try to re-write that debut hit. Instead, here is a progressing set of pop/rock songs softened by keyboards and strings, and with such honestly delivered singing that one hardly notices the lyrics are sometimes merely interpolations of classics like "Amazing Grace" and "He's Got The Whole World In His Hands." Most certainly, When Silence Falls will stand out for its compelling theme: worshipping God even in hard times.
Featuring: "Beautiful One" (already being sung in churches and covered by contemporary artists), the exuberant "Joy Is In This Place," and a rendition of Nathan Fellingham's 1995 song, "Holy, Holy."
Listen to samples from When Silence Falls on Songs4Worship.com