Pick of the Week: Ultimate Worship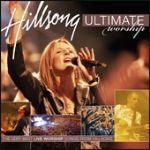 CD: Ultimate Worship
Artist: Hillsong Worship Team
Label: Integrity Music
Quote: "Being at Hillsong these days is very exciting. I wake up on weekends going 'Oh my gosh, what's going to happen today?!' Amazing things are happening all across our nation. I think last week, the financial review, it had two lists. One was a list of the biggest money making companies, the financial movers and shakers. The other top ten list was 'the real movers and shakers in our country,' the impact makers. And there on that list was Hillsong Church, which is totally cool. We've received a lot of slack about some things. People criticize what they don't understand, that's just human nature, but it's an amazing season. One I feel that we've been given a great responsibility for, so you try to trade grace with the wisdom of God. On some days you do it well, and some days you don't!"—Darlene Zschech
FYI: Darlene and her husband Mark Zschech sponsor two children through Compassion International, one of whom lives in Rwanda, where the Zschech's are leading the charge for "100 Days of Hope," beginning in April 2006. Corresponding to the same 100 days of genocide that took place in Rwanda in 1994, "100 Days of Hope" is an unprecedented effort to minister to a broken country in the name of Jesus.
The Bottom Line: Every week Darlene Zschech and the Hillsong Worship Team impacts thousands in their church in Sydney, Australia. At the very same time, their songs reach out to millions of Christians in churches all over America and around the world, with words of hope and praise, joy and celebration. Ultimate Worship brings together, for the first time on one CD, the popular live versions of the top songs used by the U.S. church. From the classic "Shout To The Lord" to the fastest rising new song "Still" this is a must have collection for every Hillsong fan. It's also a perfect choice for worship leaders looking for a worship album full of church-tested worship songs their congregations will love to sing.
Featuring: 17 songs, 77 minutes of Hillsong's finest worship songs, together on one CD, including: "I Give You My Heart," "Worthy Is The Lamb," "Here I Am To Worship," "Shout Your Fame," "Glory," "All the Heavens," and much, much more!
—Chris Davidson