Pick of the Week: Wait for Me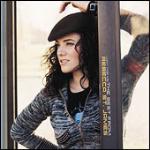 Quote: Rebecca's commitment to God and His Word have clearly been the central tenets of her music and ministry, and I think that's the main reason for her success and her popularity," says Mark Moring of Campus Life magazine. "Sure, her music is hip and innovative, but it's her underlying commitment to Christ and her unabashed proclamation of God's love that primarily attract the listener."
FYI: At age 18, she was hailed as one of "50 Up and Coming Evangelical Leaders Under 40" by Christianity Today, Grammy winner St. James' most recent book Wait For Me, a book on sexual abstinence, reached the top of the Christian Booksellers Young Adult sales chart.
The Bottom Line: With more than 10 years of recording under her belt, Rebecca St. James has more than enough great songs to make a 'best of' collection. This one is a solid offering of what makes her one of the most admired female Christian artists. Beautiful songs with a modern edge and a strong heartbeat for God.
Featuring: 18 songs spanning seven St. James' albums, including the cream of the crop from her Worship God album, "Lamb of God" and "Song of Love," and four touring favorites that have never been released on disc before.
Special Offer!Save up to $5 on sets—add Rebecca's best-selling CD and/or songbook, Worship God featuring top worship songs like "Above All," "God Of Wonders," and "Let My Words Be Few."
Listen to song samples or buy Wait For Me from songs4worship.com!