Pick of the Week: World Service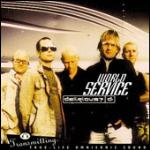 CD: World Service
Artist: Delirious?
Label: Furious/Sparrow Records
Quote: Lead singer Martin Smith says, "The World Service studio sessions were intense but exhilarating as we sensed early on that this wasn't going to be just 'another album.' The life of Delirious? has definitely had its twists and turns of late, but we have been graced again with music that you can feel God smiling at."
FYI: Listen closely, and you may recognize guest harmony vocals on closing anthem "Every Little Thing" coming from Daniel Bedingfield, a fellow British performer who recently scored two international mainstream pop hits ("Gotta Get Through This," "If You're Not The One"). Also, Hillsong Church Choir appears on "Majesty (Here I Am)" with the arrangement done by Darlene Zschech.
The Bottom Line: It sounds like hype when an artist's latest offering is compared to its previous best work. But in the case of World Service, Delirious? really has recaptured the allure of its early days without falling into rutty self-plagiarism. Fans of the band's Cutting Edge debut or a disc like U2's All That You Can't Leave Behind will want to take this for a spin.
Featuring: Awe-inspired praise rockers "Grace Like A River" and "God In Heaven," the sky-high pop worship melodies of "Rain Down" and "Free."