Pick of the Week: WOW Worship Red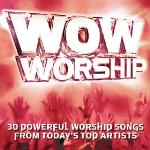 Artist: WOW Worship(Red)
Artist: Various
Label: Provident/EMI/Word Entertainment
Quote: "A worthy complement to the longer-running WOW and WOW Gospel series." —Steve Huey, All Music Guide
FYI: This is the fifth release in the best-selling WOW series, which first launched in 1999.
The Bottom Line: With 34 songs in this two-disc set, WOW Worship (Red) pulls together an exemplary collection of not only great worship songs, but also talented CCM artists like Michael W. Smith, Darlene Zschech, Steven Curtis Chapman and Phillips, Craig & Dean who bring their own distinctive voices to those songs. It's a great addition to any music library. And don't miss the first ever WoW Worship Red DVD featuring 16 incredible worship videos from artists like 4HIM, Chris Tomlin, Tim Hughes, and Newsboys. (Click here to see song list).
CD Features: 34 powerful worship songs including 12 brand new recordings you can't find anywhere else: "Spirit Of The Living God" by FFH, "I'll Fly Away" by Jars Of Clay, "Give Us Clean Hands" by Mark Schultz, "Jesus, Lover Of My Soul" by ZOEgirl, "Amazing Love" by Bebo Norman, "How Deep The Father's Love For Us" by Joy Williams and "Word Of God Speak" by Big Daddy Weave. Plus four bonus tracks: "All I Want Is You" by Planet Shakers, "Beautiful Savior" by Casting Crowns, "May The Words Of My Mouth" by Tim Hughes, and "More Than A Friend" by Jeremy Riddle.
DVD Features (click here to see full song list):  "Open The Eyes Of My Heart" by Randy Travis, "Victory Chant" by Nicole C. Mullen, "As The Deer" – Salvador, "Here I Am To Worship" - Plus One, "Redeemer" by Nicole C. Mullen, "Lord, You Reign" by 4HIM, "All I Want Is You" by Planetshakers, "He Reigns" by Newsboys, "Song of Love" by Rebecca St. James, "He Is Exalted" by Shane Everett & Shane Barnard, "Majesty (Here I Am)" by Delirious, "O Praise Him" by David Crowder Band, "Take My Life" by Chris Tomlin, "All the Earth" by Charlie Hall, "Better Is One Day" by Chris Tomlin/Matt Redman and "Beautiful One" by Tim Hughes.
Be among the first to get WoW Worship Red! Order today—CD and DVD shipping 3/9/04. Songbook shipping by 3/26/04.
Special Offer: Save up to $6 on CD and Songbook sets! Get the WoW Worship Red CD & Songbook set plus add WoW Worship Yellow featuring 33 more of today's most powerful worship songs!
—Chris Davidson