Pick of the Week: You & You Alone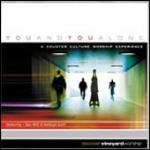 Quote: "It is our prayer that we may contribute songs to the Body of Christ which will stir hearts to genuine worship and encounter with God."- Ted Jeans, General Manager, Vineyard USA
FYI: Presented as a "counter culture worship experience," You And You Alone sends out a call to believers to live counter to their cultures and put God first in their lives.
Bottom Line: Featuring well-known Canadian Vineyard worship leader Dan Wilt as well as Kathryn Scott of Belfast, You And You Alone captures the worship coming out of the Vineyard churches in Ontario and the Maritimes.
Features: "Your Amazing Love," "All You Are," We Will," "You And You Alone," "Only You," "Even Though You Know," "How I Love You Lord," "Lord I Am Coming," "Jesus You're Alive," "You Have Called Me," "No Other One" and "Heart Of The Heavens."
-J. Gary Walker
Buy this album now from songs4worship.com!
Song List:
(Click on highlighted songs below to play an audio sample. You will need the RealAudio plug-in to listen to the audio samples.)