Song Story: "We Lift You Up"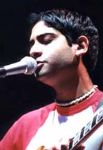 Amazing things happen when we exalt the Lord. I think it's because He loves it when we talk about Him. He loves it when we brag about Him, when we talk about how great He is and tell all the awesome things He's done. One of my favorite verses in the Bible is Exodus 15:11. It says, "Who among the gods is like you, O Lord? Who is like you—majestic in holiness, awesome in glory, working wonders?" Nobody, I mean nobody, compares with our God. No one in Heaven, no one on Earth, no one anywhere else comes even close.
So, you can see, we have plenty of reason to brag about our God. There is no shortage of inspiration when it comes to exalting Him. In fact, it is all the amazing things about God that make us want to lift Him high for everyone to see. You know how it is when you see a beautiful sunset—you just want everyone around you to see it. It's like that, only way more intense when it comes to God.
These are all the thoughts I had when I was writing the song "We Lift You Up." I wanted an upbeat song that shouted out all the things about God that set Him apart from everyone else. And it's not just that He's so high above us; it's also that He came to us and saved us. He walks with us as He leads us all through this life. That's why the second half of the verses say, "From the days of my youth You have led me in Your way / now I'll shout out Your truth today."
The chorus is simply about lifting God high so everyone can see His goodness. When we sing, "Let Your glory fall," we are simply asking that all the invisible attributes of God become visible to people around us. We are asking God to be visible through our lives. My heart is for "We Lift You Up" to become more than a song; I want it to become the way that we live our lives. Let's let every action and every word lift God up, so the world can see Him clearly.
Lyrics © 2003 Vertical Worship Songs/ASCAP