10 Essentials of Highly Healthy People - Book Review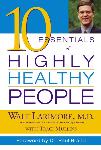 Author:      Walt Larimore, M.D. with Traci Mullins
Publisher:   Zondervan
When a book about health and wellness starts off with a lengthy endorsement from the Christian Medical Association, you know it's got to be pretty good.  And for the most part, 10 Essentials of Highly Healthy People is just that.
Author Walt Larimore, M.D. has taken his 20+ years of family medicine practice and experience as a live television host of Ask the Family Doctor on America's Health Network and Fox's The Health Network and boiled it down to 10 essentials that everyone needs to be highly healthy:  balance, self-care, forgiveness, reducing SADness (stress, anxiety, and depression), relationships, spiritual well-being, positive self-image, discovering your destiny, personal responsibility and empowerment, and teamwork.
These 10 essentials directly affect our health, which Dr. Larimore divides in quarters and likens to the four "wheels" on a car:  physical, emotional, relational, and spiritual.  A simple exercise early on allows the reader to plot out his or her own wheels of health to see if there are any areas of imbalance. 
Throughout the 304 pages in a non-threatening, conversational writing style, Dr. Larimore cites many real-life examples (drawn from the well of numerous patients he's seen over the years) to illustrate and prove his points.  He's also peppered the book with many self-help "prescriptions" for application of the various principles. 
But with such a high concentration of information, do-it-yourself activities, and real life stories all in one dose, the book can seem a bit overwhelming at times.  And a better, more user-friendly layout might have helped readers process and get through the book with greater ease.  The best remedy?  Take the good doctor's advice in his "Getting the Most Out of This Book" intro and skim first.  Then go back and invest the time and energy necessary to get the most out of 10 Essentials of Highly Healthy People.