A Distant Melody Does Credit to First-Time Novelist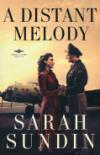 Author: Sarah Sundin
Title: A Distant Melody
Publisher: Revell

It's 1942, and Walter Novak can't seem to put two coherent words together when faced with a pretty, available woman. But he can command a crew and pilot a B-17 through enemy fire. When Walt meets Allie Miller, he mistakenly believes she is married, and while disappointed—she's friendly and attractive—he finds that he can converse with her easily. Soon afterwards, he discovers that she is single after all, and their newly established camaraderie gives him hope for the future.

Allie Miller has been told by her mother for years that someone as plain-looking as she is should be grateful for the attention of her long-time beau, Baxter. Besides, her father wouldn't bequeath his thriving company to any other man. When Allie meets Walter on her way to a mutual friend's wedding, sparks fly, much to her delight and dismay. During their week at the wedding location, she assumes Walt is just being friendly, for surely her friends have told him about Baxter. But her feelings aren't so platonic.

When Walt is called into action over Europe, he and Allie begin corresponding regularly by letter. By the time Walt figures out that Allie can't be his "girl," it's too late—he's in love. Allie finds herself resisting her parents' expectations but is limited in how she far she can rebel. Each of them must rely on God in new and challenging ways as they fight their individual battles.

Allie and Walter are two very likeable characters. Each of them experiences not just a love story, but a coming of age transformation. They live in two different worlds—breezy, affluent California and harsh, dangerous England during World War II. Sarah Sundin successfully weaves the narrative into a tri-cord braid—their developing relationship, Walt's leadership and wartime challenges, and Allie's struggle to reject family expectations. Their letters bridge the gaps and help bring the story strands together.

The author is most successful in painting the scene. Sundin describes each setting in vivid prose. Readers fly with Walt's B-17 bomber making a run across the English Channel to drop bombs on Germany. We smell the smoke and blood, see the flak on the windshield, hear the screams of pain and whine of engines, feel the faint nausea brought on by fear. Life in the barracks, military uniforms, 1940s customs, manners, and fashion—Sundin fills the story with anecdotal riches.

Sundin also describes the hardships of war surprisingly well, not backing away from the debilitating effects of death, suffering, and depression. Characters are not allowed to stagnate—even those we dislike grow and change. By the end of the book, Walt and Allie are not the same people who met on the way to a wedding. Well-paced, with a solid Christian theme and message, A Distant Melody does credit to first-time novelist Sundin. Readers should be delighted that it is only book one in the "Wings of Glory" series.


**This review first published on May 17, 2010.