A Life God Rewards Author Moves to South Africa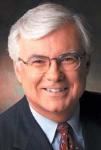 Coinciding with the release of his third installment in the Multnomah Publishers "BreakThrough Series", A Life God Rewards, author Bruce Wilkinson and his family have moved to Johannesburg, South Africa in order to help fight the HIV epidemic, promote intertribal reconciliation, and address widespread famine.
The decision came after Wilkinson met with top African government and church officials while on a recent trip through Nigeria, Ghana, and South Africa.  "We were broadsided by the overwhelming need that is in Africa right now," said the author, who witnessed firsthand the effect AIDS is having on families.
Formerly the president of Walk Thru the Bible in Atlanta, Ga., Wilkinson has now launched a film company, Ovation Productions, which has a 65-member crew already in production for a feature film called Beat the Drum.  The movie focuses on the life of a young African boy who loses his parents to AIDS.  Wilkinson is also the founder and president of Global Vision Resources, based in Atlanta, where he and his family will continue to retain a residence. 

The release of A Life God Rewards, which addresses how our actions on earth affect our place in eternity, follows the success of The Prayer of Jabez (released in April 2001, over 9 million in sales) and Secrets of the Vine (over 3 million in sales).