A Life God Rewards - Book Review
Whitney Hopler

Crosswalk.com Contributing Writer

2002

16 Oct

COMMENTS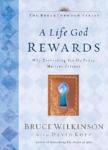 Author Bruce Wilkinson follows up his bestsellers The Prayer of Jabez and Secrets of the Vine with the latest volume in the series, A Life God Rewards:  Why Everything You Do Today Matters Forever.  This time around, Wilkinson focuses on the connection between what people do on earth and their rewards in heaven or their suffering in hell.
Just as The Prayer of Jabez was controversial for those who saw Wilkinson's message as a self-serving way to approach God, this volume's message will likely also stir up some lively discussions among readers about faith and good works.  But Wilkinson is quick to point out that a person's salvation depends on faith alone before discussing how Christ will judge each person's deeds after death.  Those who go to heaven, he says, will enjoy varying degrees of rewards, and those who go to hell will suffer in varying degrees, all according to their words and actions while still alive on earth.
The message that people's words and actions matter greatly to God and ultimately determine the quality of their afterlives is sobering.  But it's also urgently needed in a world where God's costly gift of salvation is too often cheapened.  Too many Christians accept the gift but then neglect to live in ways that prepare them to meet the Giver face-to-face one day.
Although A Life God Rewards presents an important message and does so well, it could have been an article rather than a book.  The entire first chapter seems like a rehash of the preface, constantly telling readers what to prepare to read later on in the book.  And the text throughout seems stretched to fill even the slim, small volume that resulted.  Of course, an article can't bring in nearly as much money as a book (not to mention a video, DVD, audio cassette, or audio CD--all of which are companion products).  But, marketing concerns aside, an article would have sufficed just fine.