A Woman's Role in the Home - Book Review
Whitney Hopler

Crosswalk.com Contributing Writer

2002

22 Oct

COMMENTS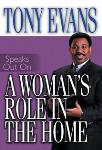 Author:  Tony Evans
Publisher:  Moody Press
It's always a bit suspicious to have a man write a book for women, and vice versa.  In the back of their minds, readers may wonder whether an author writing for members of the opposite gender can truly understand them.  And a book written by a man on the controversial topic of wives submitting to their husbands may elicit even more suspicion.  But, fortunately, Tony Evans Speaks Out on a Woman's Role in the Home is just as biblically supported and fair-minded as its companion booklet, Tony Evans Speaks Out on a Man's Role in the Home.
Evans' candor and warmth make the booklet refreshing to read.  He isn't afraid to address tough issues, such as women's fear that deciding to submit to their husbands will cause their spouses to run roughshod over them.  The key for women, Evans says, is to trust God with their marriages, then watch Him transform them and their lives.  Evans disarms both men and women in his booklets by focusing them on the real issue at stake when it comes to marital roles--obeying God.  Ultimately, Evans asserts, spouses in any marriage can be transformed if they take their eyes off themselves and look to God instead.
It is disappointing that Evans doesn't include any contemporary stories in this booklet to illustrate how God can transform marriages.  The companion volume suffers from the same problem.  But Evans does make his narrative interesting by occasionally throwing in folksy images to illustrate his points.  For example, when discussing husbands who aren't growing spiritually, he compares them to parked cars.  The wives who nag them, he writes, are like drivers who angrily honk their horns and wave their fists at drivers in their way.