"Along Came Jones" - Book Review
Whitney Hopler

Crosswalk.com Contributing Writer

2003

2 Apr

COMMENTS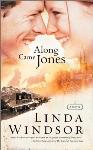 Author:     Linda Windsor
Publisher: Multnomah Publishers
Every once and awhile a novel comes along that's so much fun to read, it puts a smile on readers' faces no matter what the circumstances of their real lives. "Along Came Jones" is just such a book.
Author Linda Windsor writes masterfully, spinning this tale with such charm and vitality that readers can't help but be drawn into the story of New York city slicker Deanna Manetti's adventures with Montana wrangler Shepard Jones. Windsor's vivid descriptions allow readers to see the action in their minds as clearly as if it were a movie, and the sometimes uproarious humor she includes is thoroughly entertaining. Elements of suspense kick the action up a notch, making the book even more exciting to read. Windsor does have a tendency to explain characters' thoughts in the narrative too frequently, when it's obvious what they're thinking through their actions and dialogue. But generally, her writing is delightful.
"Along Came Jones" does more than just entertain. It presents the powerful message that even when people feel abandoned, they never truly are, because God's Spirit and people are always nearby.  Deanna and Shep both struggle with despair even as they flirt with each other. But once they trust God enough to encounter His love, they also discover real hope. It was a great idea to include the 10 questions for reflection or discussion that appear at the end of the book. They should prove very useful for readers struggling with  hopelessness, yet still seeking the hope that only God can give.

Get 1 Christian Bestseller for FREE, plus FREE shipping.  Click here for details.