"Amagansett" an Astounding Murder Mystery Debut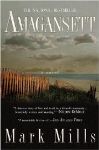 Title:  "Amagansett"
Author:  Mark Mills
Publisher:  Berkley Trade
In post World War II America, the shores of Amagansett – a region along the Long Island coastline – is a place sharply divided between the local fisherman trolling the waters of the Atlantic for a living and the wealthy, who come there during the summer to play on huge resorts and summer homes.
Privileged businessmen from the out-of-town crowd the shores on the weekends, fishing for sport, jeopardizing the livelihood of fishermen who have worked these waters for generations. The rich and wealthy ignore those beneath them, dismissing the lower-class anglers who ironically provide them with their high class caviar, seafood, and take them on boating adventures to fish for everything from swordfish to stripped bass. The lower-class themselves live their lives as best they can, knowing full well a hard truth: you can't fight the rich. One morning, everything changes when Conrad Labarde, a third-generation fisherman pulls in his nets, finding a beautiful blonde entangled among the fish and seaweed, dead. She's not just any woman, however. She's Lillian Wallace, daughter of Manfred Wallace, powerful businessman, summer-time resident of Amagansett.
Deputy Chief of Police Tom Hollis is faced with an "open and shut" case of "death due to misadventure" - Lillian went swimming where she shouldn't have and drowned - but something nags at the back of his mind, and he's unable to let the case rest. Aware that heeding this "nagging" is one of the prime reasons the NYPD "put him out to pasture" to Amagansett in the first place, Hollis probes deeper into the mystery of Lillian Wallace's death and the taciturn, mysterious Conrad Labarde - a closed-mouthed veteran of the war who seems to know more than he's telling.
This is Mark Mills' first novel, and it is an astounding piece of literary fiction, blending character studies with a murder mystery effortlessly. Its narrative – set in the late forties after World War II – is authentic, and Mills reveals his secrets slowly along the way. Though the victim and the perpetrator are fairly easy to divine, the true crime is hidden under layers of clues and plotlines.
He smoothly matches illuminating flashbacks with the present-time narrative, and creates compelling characters in Hollis and Labarde. The pace of the novel is smooth at times, crashing at others mimicking the ebb and flow of ocean tides themselves. The novel gets a little tawdry near the end; early on, romantic encounters between key characters were plot-necessary and tasteful, but the bedroom action becomes a little fast and furious towards the end, almost as if Mills surrendered to the compulsion to be a little naughty as he was writing.
Overall, it's a solid piece of fiction from a promising new writer. It's a period-piece true to its era, while having a pull that will attract readers from any generation.



 
© 2006 Infuze Magazine.  All rights reserved.  Used with permission.