Apologist's New Book Helps Christians Reclaim Childlike Awe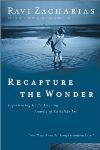 Noted Christian author, teacher and speaker Ravi Zacharias says too many believers are allowing the worries of the world to close their eyes to the splendor of God's creation.

In his new book Recapture the Wonder (Integrity Publishers, 2003), Zacharias says while life in Christ is meant to be a celebration, many Christian adults are living lives of weariness and cynicism. The author says churches would have a bigger impact on society if believers reclaimed the awe of childlike faith.

Zacharias says learning to rediscover and practice an attitude of awe will make a tremendous difference, not only in a Christian's life, but also through it. "First of all, it will be personally the most transcending and fulfilling thing you can ever have," he says, "because all these pooled together -- gratitude, truth, love and hope -- form a life of worship. And worship is the purpose for which God has created us."

But according to the popular Christian speaker, the wonder-filled transformation only begins there. "The next thing it does is build a worshipping community within the Church. That community then has an avenue to reach out," he says.

Zacharias says most Christians need to learn to retain their childlikeness and shed their childishness. "For the child, a new taste, a new experience is all so enthralling, he says. "Everything is 'Wow!,' everything is delightful. The fairy stories mean a lot, the storybook, the hug, the embrace -- all that goes along with childhood. But then we get tired of the same old thing."

The author says each Christian must find ways to "feed the mind with enough new thoughts and new intimations of reality that need to filter down to the heart."

Ravi Zacharias was born in India in 1946 and immigrated to Canada 20 years later. The renowned Christian apologist has addressed numerous university audiences worldwide, notably at Harvard, Princeton and Oxford University; and has spoken in over 50 countries, including the U.S., Vietnam, Cambodia, and several parts of Africa and the Middle East.

The respected author-theologian, who also writes children's stories, has been awarded the Gold Medallion for best book in the category of doctrine and theology for Can Man Live without God (Word Publishing, 1994), which has been translated into eight languages. Zacharias's latest work, I, Isaac Take You, Rebekah, a book on marriage, will be made available in the winter of 2004 by the W Publishing Group.

© 2003 Southern Baptist Convention, Baptist Press.  All rights reserved.  Used with permission.