"Arms of Deliverance" Fourth in World War II Series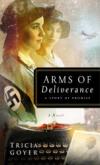 Author: Tricia Goyer
Title: "Arms of Deliverance"
Publisher: Moody Publishers
In 1944, Germany has overrun most of Europe and prepares for the rumored Allies invasion to liberate the continent. In Belgium, Katrine sits in a cafe with the beautiful people of high society, a lifestyle that refuses to submit to war and a way of life Katrine has come to hate.
In looks, she is the perfect Aryan. But a year before, she was Rebecca Lodz, a Jewess on her way to the camps with her parents and younger siblings. Forged documents gave her freedom while her family headed for the camps. Katrine has played the role of Aryan female well and succeeded in hiding in plain sight. But as she sits in the cafe, with its yellow star and "No Jews Allowed" sign, she realizes she's gone too far. The mistress of Hendrick Schwartz, a Nazi SS officer, she is pregnant with their child. Katrine realizes she's an active participant in perpetuating the race determined to wipe out her own people. Her guilt at how far she's gone to protect herself while her race faces extermination may betray her yet.
In New York City, rival female reporters have a much different set of problems. Lee O'Donnelly is the pampered daughter of New York society, a lifestyle she loathes. She longs to make her own way in the world, with or without her parents' approval. Lee has left her position at Vogue to enter the nitty-gritty world of city reporting. But that isn't enough. Lee longs to go to the front lines in Europe to write eyewitness reports of the war.
Mary Kelley is Lee's opposite in about every way. Raised by a single mother, she resents the society connections and money that Lee takes for granted, and comes up with novel ways to get the interviews she wants. By hard work and determination, she carves out a name for herself in the predominantly male world of newspaper reporting. The rivalry between the two women intensifies when both land choice assignments in the European theater.
But neither woman is prepared for the realities of war. Their personal goals crumble as they are thrust into situations neither is prepared to handle. New priorities re-emerge, forged under the weight of war and the atrocities of Fascism. Priorities that may be short-lived when one of them goes missing.
"Arms of Deliverance" is the fourth World War II novel written by Tricia Goyer. One of my favorite authors, Tricia brings to life many smaller facts of WWII overlooked by the history books – such as the Lebensborn homes run by the Nazis. She is able to bring to life the time period with historical details, but doesn't overwhelm the reader with too much information. Infused with the hope of new beginnings, believable characters, along with a plot that moves forward, makes "Arms of Deliverance" a keeper on my shelf.



© 2007 Infuze Magazine. All rights reserved. Used with permission.