Author Helps Youth Leaders Rouse Spiritually Sleepy Teens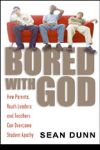 A former youth minister says parents have a major role to play in the spiritual development of their teenagers. In his book "Bored With God," Sean Dunn catalogs the symptoms of spiritual apathy that he has seen in his ministry to youth, and offers scriptural guidelines for dealing with them.

Dunn says the Bible is full of guidelines for preventing the spread of apathy. He believes parents, teachers, and youth leaders need not only to encourage teens to pursue God passionately, but also to model that same passion in their own lives. He tells Christian youth leaders, "I think that as a Church, as parents, we have to stop just dealing with the external issues – that we have to get to the core – because sin comes as our students don't approach God with a passion."

In "Bored With God" (InterVarsity, 2004) the author acknowledges that teenagers can sometimes be sleepy in their convictions. But he contends that these same young people, once awakened to a life of bold faith, can have a major impact on their world for Christ.

The youth ministry expert says even though some teens might seem to be doing well – perhaps seeming to be actively involved in church and enjoying relationships with Christian peers – parents and church leaders still have to be vigilant over these adolescent believers. "If spiritual apathy creeps in," Dunn says, "they might be among the high percentage of students that walks away from God at some time."

But that does not have to happen. With dedicated spiritual mentoring and support, the author asserts, Christian teens can be built up and firmly established in their faith. "If we can, with God's help, inspire faith in them and inspire passion in them," he says, "then some great things are going to happen in their life and they're going to walk with God all the days of their life."

Dunn is founder and president of Champion Ministries, an organization that focuses on sharing God's word with students between the ages of 12 and 24. "Our goal" the ministry leader states, "is to prayerfully and aggressively call every individual in this group into a real and vibrant lifestyle of intimate relationship with Christ."



© 2004 AgapePress.  All rights reserved.  Used with permission.