Author Impresses With "Coldwater Revival" Debut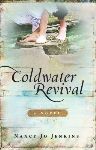 Author:  Nancy Jo Jenkins
Title:  "Coldwater Revival"
Publisher:  River Oak
Emma Grace Falin is set to be married in three weeks. But before she can commit her whole heart to Gavin O'Donnell, she must excise the demons that reside within. To do this, she must return to her hometown of Coldwater, Texas and to the farm where her nightmare began.
Emma is the middle child in a large Irish family. She has three older sisters she calls "The Ollys" – so dubbed because of their names-Holly, Molly, and Polly – an older brother Elo, and three younger brothers, Nathan and the twins Caleb and Micah. Even though one of her legs is shorter than the other and Emma requires a crutch to walk, her childhood is filled with hard work, laughter and love. Then comes the day that alters the lives of the happy clan forever and plunges Emma into a depression so deep that the burden of living becomes too much to bear.
She is sent to live with her grandmother, a woman that has borne heartache of her own. But the change of scenery does little to improve Emma's health and she continues her downward spiral, pulled ever lower by the twin weights of guilt and sorrow. But a chance meeting on a Galveston beach is a turning point. Emma and Tate, the young man she meets on the beach, begin a friendship that gives Emma new hope. But her happiness evaporates when Elo appears unexpectedly on Granny's doorstep with dire news. Emma must leave immediately, without saying goodbye to Tate. Time passes, and he becomes a memory, while Gavin is reality.
Now as her wedding day fast approaches, Emma is full of uncertainty. Is Gavin the one for her? Why can't she shake memories of Tate? She knows she must come to grips with her roiled feelings, or forfeit any chance of happiness in the future.
"Coldwater Revival" is Nancy Jo Jenkins' debut novel, and what a debut it is. The distinct personalities of her characters, revealed through description, action and dialogue are apparent throughout the book. The story itself grabbed me from the beginning, as this young woman tries to come to grips with guilt and her inability to forgive herself while at the same time, fighting for her future.
But Nancy Jo's writing is what really makes this story shine. "I'd been a bare-toed sprite, no taller than a stump, the first time the creek crooked a liquid finger and beckoned me to take a closer look at its seamless movement." is just one example of the writing that sparkles throughout this book. She seems to have put more thought and care into her word choice than is usually seen. I look forward to reading more from this very talented author.

 
© 2006 Infuze Magazine.  All rights reserved.  Used with permission.