Author Says Adults Can Help Teens Wrestle Real Life Problems
Allie Martin and Jenni Parker

AgapePress

2003

17 Oct

COMMENTS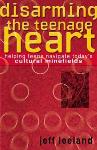 A Christian author and former teacher says parents need to help their teenagers navigate cultural minefields.

In his new book "Disarming the Teenage Heart" (Chariot Victor Pub, 2003), Jeff Leeland encourages parents to remain active players in the lives of their adolescents. The author says teenagers are idealistic and cause-oriented, and need their parents to give them guidance and direction in life.

"The problem with being cause-oriented is that kids need action, and they need parents to set the stage for kids to act on those things that are good to do," he says.

According to Leeland, young people are "hungry for realness in life." He says he has learned from children, and from teenagers especially, that "they want real things."

Leeland, a former Kirkland, Washington, schoolteacher, believes adults can help children develop courage, compassion, character, and conscience. And the author has himself developed one way to help thousands of young people exercise those virtues by coming to the aid of teenagers facing medical problems.

Leeland started Sparrow Clubs (sparrowclubs.org) in 1995 after area students emptied their piggy banks and savings accounts to help pay for his uninsured son's bone marrow transplant. At that time, Leeland was a new employee of the Lake Washington School District in Kirkland and did not yet have healthcare benefits, and his 9-month-old son Michael had just been diagnosed with leukemia.

According to a Seattle Times article, when word spread about the new teacher's crisis, one young special-education student brought his life savings – $60 in five-dollar bills – and gave it to Leland to help pay for Michael's medical procedure. Many others were touched by this selfless act and came forward to assist, ultimately raising $227,000 for Michael, who is now a healthy 11-year-old.

With the money that was left over, Leeland formed Sparrow Clubs so the miracle he experienced could happen for others. Sparrow Clubs "adopt" children with serious medical problems out to schools and youth groups.

"When students adopt a child in medical need, they do community service and fundraising, and that child becomes, in a sense, their adopted 'sparrow' for the school year," Leeland explains.

And the clubs' organizer feels the adoption program's benefits go both ways.  "What we found in the midst of doing a Sparrow project is that, even though the child [in need] is supported in some very practical ways, the students and the kids who get involved in adopting and helping that child – doing something real through a real-life crisis – those kids benefit more," Leeland says.

The Sparrow Clubs program is just one way young people can be encouraged to grow by giving of themselves. According to Leeland, teenagers only need to be trained to see the needs of others – and when they do, they are eager to have adults guide them in finding ways to respond.



 © 2003 AgapePress.  All rights reserved.  Used with permission.