Author Says Islam's Spreading Influence Makes Europe Edgy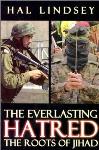 A best-selling author and end-times expert says he is alarmed at reports that anti-Semitism has reached the same levels it had in Germany during the rise of the Nazi Party before World War II – but today this evil form of prejudice can often be traced to another menacing source.
But Dr. Hal Lindsey says today it is not another Hitler that is responsible for the latest anti-Jewish activities and rhetoric that is increasingly rampant in many parts of the world. He says much of today's anti-Semitic sentiment stems from Islam.
Lindsey recently published a book called "The Everlasting Hatred:  the Roots of Jihad" (Oracle House Publishing), which chronicles the centuries-old desire of Muslims to destroy God's people. The author says jihadists have infiltrated Europe, resulting in growing anti-Semitism there.
"It's appalling. Observers put [current levels of anti-Semitism] at the same level that it was in the 1930s when the German Nazis gained power and the Third Reich took over," Lindsay says.
Still, the author thinks Islam may not gain the same kind of foothold in Europe that Nazism had. He notes that even in France there is an ongoing effort to stem the tide of Islamic influence.
"I don't think that Islam will take over," Lindsey says. Still, he adds, "I think that the Europeans are worried about it. For instance, Jacques Chirac, the president of France, has passed a law that the Islamic girls cannot wear their Muslim headdress to school. They are becoming very concerned about the Muslims and their activity within the country."
Lindsey says Europeans do have a reason to be concerned, because Muslims have been bragging that England may become the first Islamic country outside the Middle East.


© 2004 AgapePress.  All rights reserved.  Used with permission.