Author Says Parents Can Help Teens Lead Lives That Inspire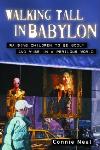 A Christian author says it is possible to raise children who are godly and wise, and who can venture boldly into society, making a difference for Christ.

In her new book "Walking Tall in Babylon: Raising Children to Be Godly and Wise in a Perilous World" (Waterbrook Press, 2003), Connie Neal offers parents advice about how to help their children develop a strong inner moral code. She says God can protect, strengthen, and use young people in the same way he used Daniel and other biblical youths centuries ago.

Neal's book points out that while the sons of the King Josiah were given every advantage and protection in Jerusalem but failed to internalize their father's example, Daniel and his friends -- even in the glamorously secular environment of Babylon -- grew up to be courageous moral examples. The author uses such scriptural examples to guide parents in raising children to make choices based on biblical truth rather than their culture's values.

"Instead of building this huge wall to keep the world out, what we need to do is equip them with spiritual armor so they can go out and engage the world on all of the important issues of the day," Neal says, "and yet do it with love, hope, encouragement, and real faith in God that comes from their heart -- not just from the external limits we've put up around them."

Neal says parents must encourage their teenagers to give their lives to Christ and then to meditate daily on God's timeless word. She wants parents to realize that it is their ultimate responsibility -- not that of Sunday school teachers or youth leaders -- to pass on the Word of God to their children.

The author encourages parents not to be intimidated by the task of teaching their children to seek guidance in scripture. "Don't feel like you're the only one who doesn't understand the Bible. I recommend even getting a kid's Bible ... and make it a goal to read just one of the gospels, or the Ten Commandments -- start small," she says.

Through "Walking Tall in Babylon," Neal seeks to guide parents in how to be fully involved in nurturing children's spirituality as well as how to lead their families out of fear and into effective, godly living.

© 2003 AgapePress.  All rights reserved.  Used with permission.