Author Susan Meissner's New Mystery Series Starts Strong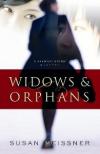 Author: Susan Meissner
Title: "Widows & Orphans"
Publisher: Harvest House
A phone call from her mother turns attorney Rachel Flynn's world upside down. Her brother, Joshua, the "only decent man I know who knows what it's like to be in handcuffs", has confessed to murder. Even though she is the first to admit that her brother is a troublemaker-he has a criminal record in four Minnesota counties-she also knows Joshua isn't a murderer. A man of conviction, he has devoted his life to helping the downtrodden in society, specifically widows and orphans.
Rachel and her illustrator husband, Trace, along with their two-month-old daughter McKenna, leave their Manhattan loft and return home to St. Paul, Minnesota. Rachel visits Josh in jail, but he won't budge from his confession and refuses to let her represent him. But Rachel won't let it go. Her instinct tells her there's more than he's telling, and Rachel decides to investigate this case on her own.
She decides to talk to the lead investigator, Sgt. Will Pendleton. He also has doubts about Will's confession. After obtaining approval, he allows Rachel access to the police reports and a visit to the crime scene. She discovers that Joshua befriended two young Hmong girls, Choua and her younger sister, Bao, at the teen center where he works. When he tries to help the girls escape an abusive situation, it spins out of control and the Asian grocer, Vong Thao dies in his grocery's basement, shot by Joshua, or so he insists.
But small things refuse to support Josh's confession. Rachel enlists the help of Trace, his eccentric friend Fig, and four other artists to sketch the crime scene from her descriptions. As each artist renders his interpretation of the crime, missing pieces begin to fall into place, leading to a conclusion not even considered early on.
Since Joshua was twelve, his conviction to help widows and orphans was a wedge between him and his parents, pain that is forced to the surface with his actions and confessions. Rachel finds herself caught between a brother only she's understood and parents struggling with to understand a son they feel they've never really known.
The book also raises a compelling question. Is it ever right to ignore the rule of law, even for noble objectives? (Helping widows and orphans, for example). And if one chooses to take an "end justifies the means" mentality, what holds that person in check? Prevents them from acting in the heat of the moment? If there is no accountability, disastrous consequences are but a moment away.
"Widows & Orphans" is the first novel in the Rachel Flynn mystery series. Award-winning author Susan Meissner crafts a mystery peopled with great characters, (Fig is a riot!) and a plot that leads to an unforeseen, but satisfying ending. I look forward to reading the next book in the series.


© 2007 Infuze Magazine. All rights reserved. Used with permission.