Author's Debut Novel Shows Redemptive Beauty of Adoption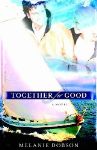 Author:  Melanie Dobson
Title:  "Together for Good"
Publisher:  Kregel
Abby Wagner is the vice president of Nolte PR, an up-and-coming public relations firm in Denver. She's at the top of her game until the firm lands a new client, Heartsong Adoptions.
This isn't her first encounter with Heartsong. Twenty years ago, she lost her first child to the agency and never forgave them, her husband or God for destroying her life. Caught in a vortex of grief that threatens to pull her under, her work begins to suffer. Her emotions interfere with her job and her boss, Blanche Nolte, forces her to take an extended "vacation."
Abby plans to spend this time with Jessica, her college-age daughter. Abby wants to vacation in North Carolina, but Jessica has made her own plans. She is returning to the old family summer place on Orcas Island, in Washington's Puget Sound. Abby fled the cottage after the adoption failed and has never returned. She doesn't want to go, but is loathe to spend the summer alone in Denver.
The trip back to her old stomping grounds brings back good and bad memories. One of the good memories is Abby's old friend and sailing instructor, Damian De Lucia. He returned to the islands after his careers with the International Whaling Commission and a short stint at the Seattle Aquarium ended. He now owns a charter operation and spends his summers trolling the waters with tourists, looking for the pods of orca whales that gave the islands their name. But this year the whales haven't returned by the start of tourist season. He blames local Pageant Industries for polluting the water of the sound, but Damian's work with the IWC has branded him a whale killer, and no one will pay attention to a washed up biologist.
While the trip back home is difficult for Abby, it is anything but that for Jessica. She's found a job waitressing at one of Orcas Island's landmark restaurants. She's also found a new interest in Marc Cartwright, Damian's deckhand on his charter boat. Soulmates from the beginning, Jessica must battle Abby's disapproval without losing both her and Marc. Before the summer is over three people will discover more in common than they ever could have guessed.
"Together for Good" is the debut novel from author Melanie Dobson. As someone familiar with the adoption process, she brings first hand knowledge to the joys and pains of this difficult and sometimes heart-rending experience. This is an adoption book with a unique twist and a strong evangelical message that shows how even the most heartbreaking experiences can be redeemed into something beautiful.

 © 2006 Infuze Magazine.  All rights reserved.  Used with permission.