Author's New Book Urges Spiritual Combat Training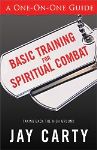 An associate coach who spent three years on the staff of University of California-Los Angeles coach John Wooden says it's possible for Christians to triumph when it comes to spiritual battles.
In his book "Basic Training for Spiritual Combat" (Regal, 2005), Jay Carty encourages believers to become aware of spiritual warfare – and then prepare for battle. In the book, the former athletic trainer turned Christian author and speaker looks at various topics, such as dealing with anger biblically, how to adjust priorities, and how to deal with temptation.
For instance, Carty says there are many safeguards that men can employ to avoid compromising situations. "When you see the potential of a compromise coming," he urges, "get out of the situation before it gets there. It's really straightforward and simple."
One application, the former UCLA associate coach points out, involves the simple good judgment of "fleeing temptation," or running away from a potentially sinful scenario. For instance, he says, "I don't think a man, if he's married, ought to take another woman to lunch unless there's a third party there -- no business lunches, none of those kinds of environments."
Also, Carty advises, "Don't pray one-on-one with another man's wife." In fact, he says, married individuals should never pray with a person of the opposite sex, regardless. "There are few things in life more intimate than prayer," he explains. "Prayer with a person of the opposite sex often leads to further compromise and intimacy."
These are just a few of the "little basic rules" the author urges for victory over spiritual adversity. Many of them are the sort of thing that "kids of today pooh-pooh," he says, "but if they would just practice them -- and practice their running -- they wouldn't get into trouble."
Believers need to be aware that an intense spiritual battle is engaged for their mind, will, and emotions, Carty points out. He believes being forewarned -- and equipped -- is forearmed. It is possible, Carty asserts, for Christians who are spiritually trained to be victorious in spiritual warfare.

© 2005 AgapePress.  All rights reserved.  Used with permission.