Authors Say Christians Can Reclaim True Meaning of Christmas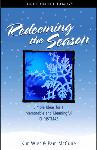 In an age when secularism and materialism seem to overwhelm the holiday spirit for many, two authors aim to help Christians reclaim the true spiritual significance of Christmas.
In their book "Redeeming the Season:  Simple Ideas for a Memorable and Meaningful Christmas" (Tyndale, 2002), authors Kim Wier and Pam McCune encourage families to develop Christmas traditions that have focus and meaning.

Wier says Christmas should center on three things:  family, the message of Christ, and perhaps most importantly, worship.

"When that baby was still lying in the manger, before Jesus had done a single miracle, before He had said any wise words, He was just a baby that looked like any other baby," Wier notes, but "God made sure that His son wasn't missed, and He sent people to worship the baby."

The author lists the many worshipful characters from the biblical account of the nativity:  angels, shepherds, wise men, even Anna and Simeon in the temple — that came and gave honor to the Christ child. Like these scriptural figures, she says believers must not forget to make worship central to all their Christmas activities.

Wier also points out that Christmas should be kept simple, which she says can be accomplished with a little thought and planning. She recommends that believers sit down around just after Thanksgiving and consider all the holiday activities they and their families might do, such as parties, programs, shopping, entertaining guests or relatives, and travel plans.

"To be simple means that you evaluate everything that you're doing in your holidays," Wier says. "Look at all of that and say, 'What fits into what I want my Christmas to be?' And if it doesn't fit in, say no to those things."

In "Redeeming the Season," Wier and McCune offer several guidelines that can help families re-evaluate those activities and traditions they take part in at Christmastime and make sure the focus is where it belongs — on Jesus Christ.



© 2003 AgapePress.  All rights reserved.  Used with permission.