"Back on Track" - Book Review
Whitney Hopler

Crosswalk.com Contributing Writer

2003

12 Aug

COMMENTS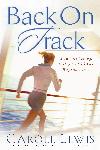 Author:     Carole Lewis
Publisher: Regal Books

Bookstore shelves are full of books suggesting various ways to lose weight, but "Back on Track" stands out from the crowd.  It offers far more than just tips; it helps people explore the underlying spiritual, mental, and emotional reasons why they're struggling with their physical weight despite trying hard to shed pounds.

Written by Carole Lewis, the national director of the Christ-centered health program First Place, "Back on Track" wisely points out that it's not self-control, knowledge, or money that will ultimately help people lose weight successfully.  Ultimately, Lewis writes, only God can help people lose weight and keep it off permanently.  And the process of doing so, she writes, is a daily battle – for which people must align themselves with God and draw upon His strength as if they are soldiers in a war.

Lewis candidly shares how dismayed she was to discover that she had gained back the pounds she had lost through the First Place program, and what she learned as she tried to believe, trust, and obey God more and more.  She is most effective when she discusses how life's daily demands and unexpected circumstances can derail even the best-laid weight-loss plans.

Then Lewis presents a very simple 16-week plan called the "Triple Dare" for readers to use to establish healthy habits in such areas as eating, exercising, resting, spending time with God, and keeping a record of their daily lives.  It would have been better to place this at the beginning of the book; then Lewis' "Triple Dare" journal entries interspersed throughout the text would make more sense to readers.  "Back on Track" also includes 10 "testimonies" from people who have followed the "Triple Dare" plan.

Though it's a slim volume containing little more than common sense in its weight loss plan, "Back on Track" is valuable because of the insights Lewis provides into the spiritual, mental, and emotional aspects of winning the war on fat.

Get 1 Christian Bestseller for FREE, plus FREE shipping.  Click  here for details.