Basketball Great John Wooden Shares Faith, Wisdom in Book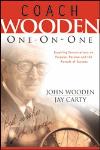 The man that ESPN and Sports Illustrated call the greatest coach of the 20th century, basketball legend John Wooden, credits his faith in God with sustaining him through life's successes, failures, and heartaches.

Wooden, a 93-year-old Indiana native who is known as the most successful college basketball coach in history, says he has known his share of setbacks despite his reputation for success. But the championship-winning coach says his faith in Christ has carried him through the times of trial and heartache.

"Faith will give you a sense of balance about things," Wooden says, "and you'll be able to accept the good fortune and the misfortune, and that you're going to have some [of both] along the way."

Wooden shares his Bible-based philosophy of life in a new book titled "Coach Wooden One on One: Inspiring Conversations on Purpose, Passion, and the Pursuit of Success" (Gospel Light Publications, 2003).

In the book, Wooden coach points out that it is only through the lens of faith that life can be understood. One has to believe "that there's a reason back of everything, although you don't understand the reason," he says, noting that if a person want to analyze and understand life's situations, "you'll be able to do that better if you have faith and know that there's something stronger than just the things that we can see."

And the former coach encourages readers, just as he has encouraged numerous players, to place character development over reputation. According to Wooden, "Your character is far more important than reputation, because your character's what you really are – you're the only one that knows that – while your reputation is what you're perceived to be. And [the two] can be different."

In 40 years of coaching, Wooden compiled an 885-203 record. He is one of only two people in the Basketball Hall of Fame as both a player and a coach.

© 2003 AgapePress.  All rights reserved.  Used with permission.