"Being the Body" - Book Review
Whitney Hopler

Crosswalk.com Contributing Writer

2003

24 May

COMMENTS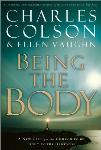 Authors:   Charles Colson and Ellen Vaughn
Publisher: W Publishing Group

A decade ago, Charles Colson and Ellen Vaughn's book "The Body" made a splash among Christians, helping them define what it means to be the Christ's church on Earth.  Now both Colson and Vaughn have revamped "The Body" to become "Being the Body," which W Publishing Group says features fresh material in nearly half of its 400-plus pages.  Although this new book presents the same core message as the original, it exhorts readers to put its principles into practice, because, as the prologue puts it, "if there was ever a time for the church to be the church, it is now."

The book opens with absolutely riveting accounts of the September 11, 2001 attacks on the World Trade Center.  The descriptions powerfully illustrate the urgency for Christians to put their faith into action during this time in history.  And thankfully, the authors relate the book's many other examples just as powerfully, drawing readers into the book and making them genuinely care about the issues at hand.

"Being the Body" is divided into three sections: "What is the Church?," "The Church Against the World," and "The Church in the World." It covers a staggering amount of ground, delving into vital issues such as integrity, unity, a consumer-based mentality versus one that honors God, courage, service, and the power of the Word and sacraments.  But at times, the book tries to do so much that it gets a bit carried away with itself.  The chapter titles -- including two in Latin and one called "What is Truth?" -- give readers a clue that this is a book trying hard to be as grand and important as possible. 

A new study guide by T.M. Moore helps readers digest the sometimes overwhelming array of issues the book raises.  Readers looking to get the most out of "Being the Body" should definitely plan to go through the study guide.


Get 1 Christian Bestseller for FREE, plus FREE shipping.  Click here for details.