Bell Crafts Relevant Page-Turner in "Presumed Guilty"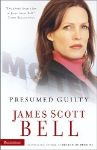 Title:  "Presumed Guilty"
Author:  James Scott Bell
Publisher:  Zondervan
Imagine you're the wife of a pastor, an 8,000-member-congregation-best-selling-author kind of pastor. You're happy. Fulfilled. Making a difference at the shelter for abused women, which you started. Lately your husband has seemed a little distant, but he would never cheat on you. You trust him completely. Until the red police lights flash outside your window. ...
Dallas Hamilton's world turns upside-down when her husband Ron is arrested for murdering a porn star in a seedy motel room. Dallas desperately wants to believe her husband is innocent. The whole thing's a huge misunderstanding. Or even a smear campaign. After all, Ron's best-selling book tackled pornography in the church, and it was he who teamed up with a local councilman in a fight to wipe out pornography in Los Angeles. Plenty of people are eager to see Ron fall. But as time unfolds, and each visit with Ron's lawyer brings more bad news, Dallas' faith in her husband dwindles.
Her family troubles aren't limited to her husband either. Jared, her twenty-four-year-old son, has recently returned from the Iraqi war and is struggling with his own demons. Dallas yearns to reach him. Yet facing her own past and her husband's future is becoming more than she can handle. But Dallas isn't letting her family go down without a fight.
Whenever I pick up a James Scott Bell novel I expect a thrilling ride - one with twists, turns, and surprises. "Presumed Guilty" fits the bill. There's a reason why Library Journal calls Jim a "master of legal suspense". His writing is crisp and sharp, and he never fails to create rich characters who could be us. This should come as no surprise from the man who also penned the acclaimed writing how-to book "Plot & Structure." I especially enjoyed how seemingly unrelated events at the beginning of the story all organically came together in the end.
Nimbly weaving the multiple storylines (Jared and Ron each get some face time of their own), Bell has crafted yet another relevant page-turner in "Presumed Guilty." Pornography is a sensitive subject for many, but Jim tackles the issue with grace. He's not afraid to touch on the porn industry's underbelly, but he never stoops into gratuitous territory.
A bold blend of legal thriller and socially pertinent fiction, "Presumed Guilty" will keep you flipping leaves well past your bedtime.

 © 2006 Infuze Magazine.  All rights reserved.  Used with permission.