Beyond Left and Right Proves Timely, Refreshing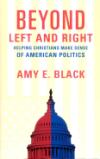 Author: Amy E. Black
Title: Beyond Left and Right: Helping Christians Make Sense of American Politics
Publisher: Baker Books
Amy Black, associate professor of politics at Wheaton College, has given us a completely new kind of book about Christians in politics. It's not issue driven, and it doesn't choose sides. Rather, it focuses on what it means to do politics in a Christian way. For Black, that means speaking truth, being humble, recognizing the complexity of the situation, and always respecting those coming from opposing viewpoints.
The book grew out of Black's teaching, and explains everything you would want to know in Politics 101: How does the American government actually work? What do liberal and conservative mean? Why do we have two political parties?
But Black does a great job of addressing specifically Christian concerns as well. Is the United States a Christian nation? (Answer: not exactly.) Where did the phrase "separation of church and state" come from, and what does it actually mean? (And nope that phrase is not actually in the Constitution.) Historically, how have churches approached political involvement?
Many of the issues Black addresses are incredibly complex, but she does so simply, writing in such a way that the reader who's never studied politics will readily understand. She uses specific examples on questions like poverty and welfare reform without overwhelming the reader with details. The result is a political primer that's both thorough and easy to read.
Black's central message is that "those involved in politics should work together in humility and with respect." She emphasizes the complexity of the process, the need to compromise (and explores the difference between political compromise and moral compromise), and the efficacy of small steps in the right direction. Reading Black, it's clear that the man or woman who lives out Christ-like love in the political realm will be an entirely different kind of politician.
If all of this sounds simple, anyone who's ventured into politics knows that the pressure to bend and twist one's Christian values is immense, and that it's possible to do so in such a way that feels like the right thing, that accomplishes seemingly good goals. Donors give more when the situation seems dire, so you make it seem as dire as possible. You tell the truth about the candidate you're running against, but not the entire truth, and this helps you win. You promise easy solutions and drastic change—even though that's not possible—because that's what voters want. Black challenges all this standard political behavior, outlining what should be essentially different in every Christian political endeavor.
In light of the harsh rhetoric of the current political culture, and the at times strident all-or-nothing approach of Christians to politics, Beyond Left and Right is incredibly refreshing. Every Christian who wants to be involved in politics should read this book.

**This review first posted on April 8, 2008.