Billerbeck Takes on Teens in Perfectly Dateless
Kelley Mathews

Crosswalk.com Contributing Writer

2010

27 Jul

COMMENTS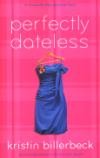 Author:
Kristin Billerbeck
Title:
Perfectly Dateless
Publisher:
Revell
If this one doesn't earn a nomination for the 2011 Christy Awards for "Young Adult," I'll be shocked. Billerbeck, known for her hilarious yet insightful chick lit novels, has graced the teen market with the same vivacious humor, wit, and thoughtfulness.

In the opening chapter, Billerbeck appears to have channeled a 17-year-old as her main character, high school senior Daisy Crispin, pens a most convincing entry into her prom journal. Titling the diary "Operation Prom Date," Daisy sums up her problems this way: "I'm so glad my parents care and all that, but I guess I wouldn't mind if they cared a little less overtly. Parents have no shame."

With a father who works delivering singing telegrams and a highly organized mother who, in Daisy's words, "can aim for the house manager in Proverbs 31," Daisy despairs of ever getting to prom. Will she succeed in convincing them to let her attain that prom "photo that proves I was not a total nobody in high school …"?

Eccentric parents are only part of the problem, of course. Getting a date ranks right up there with walking on water—impossible without God's intervention. Who's going to ask the class nerd, with the model (read: skinny) body and a brain that remembers (and a mouth that spits out) fascinating but irrelevant facts? Daisy might be at the intellectual top of her class, but she's one of the social dregs. Her lifelong crush thinks she's just a pal (sigh), her mother creates and sews most of her clothes, and she holds a well-paying job after school. Could there be a worse combination for a girl's popularity?

Daisy's best friend, Claire, does her best to aid Operation Prom Date's success. But together, the girls manage to surprise even themselves as their machinations, assumptions, and blindness land them in the proverbial pot of hot water.

Along the way, Daisy learns surprising truths about herself and why her unique family operates so … well, uniquely. She discovers the beauty of parental love that has been well disguised as hopeless hovering (the Crispins embody "helicopter parenting"). Daisy also learns to deal with the disappointment of dashed expectations—in her friends, the boys she lists as potential prom dates, even her own perfectionism.

Daisy comes to realize that her perfectionism leaves her far from perfect. Being valedictorian means less than the hard-earned wisdom she gains from wrong assumptions and bad judgment.

Perfectly Dateless delivers the laughs that readers have come to expect from Billerbeck. She combines a witty phrase with hilarious situations and an uncanny teenaged voice. She successfully uses the first person along with periodic diary entries to draw the reader into Daisy's head. She also seems to have a solid handle on the culture in which today's teens live, particularly Christian teens.

Adults and teens alike will laugh, and think, their way through Billerbeck's foray into a new genre. Let's hope for more teen lit from her in the future.


**This review first published on July 26, 2010.