"Blinded" Full of Twists, Turns and an Unexpected Ending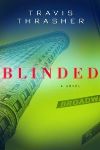 Title:  "Blinded"
Author:  Travis Thrasher
Publisher:  Moody Publishing
At 4:46 on a Friday afternoon in Manhattan, Michael sits alone, nursing wounds from a failed business merger. He has sixteen hours to kill before his flight back home to Chicago when he must face the two hundred and fifty people whose jobs are now on the line.
At 4:47 his emotions leave the boarding station and begin a slow climb up what will prove to be a rollercoaster track. A stunning blonde has approached him – him – and struck up a conversation. By the time she leaves, he has a name, Jasmine, and a phone number in his pocket.
And a wife and two children back in Chicago. But the business failure and his loneliness eat at his soul. Jasmine's phone number and her earlier parting words soothe his emotions. He thinks of his wife and guilt raps at his thoughts. But he's in New York, while Lisa is back in Chicago with the kids. She'll never know. And he rationalizes his first step into a night of terror. The rollercoaster begins to ascend the first hill.
By 8:34, he's in the Atmosphere, a club in the Village. His wedding ring is back at the hotel, but his conscience can't be taken off and left behind. As the night progresses, he finds himself pulled deeper into a world his suburban life in Chicago could never imagine. The rollercoaster peaks the hill and screams down the other side. Before first light dawns, the horrific ride rises and plummets numerous times. Somewhere during this terrifying night, his priorities realign, but he may be out of time. There are too many people that don't want him to get on that plane.
"Blinded" by Travis Thrasher is a novel that drew me in from the opening sentence. Fast-paced, it's full of twists and turns with an ending that I never saw coming. Michael is a well-written character at war with himself and his God. An only child, he must become parent to the child that used to be his mother as disease steals her mind. He's fallen out of love with his wife and has begun to seek fulfillment in places that will never satisfy. Blinded to the true treasures his life holds, he chooses to succumb to the myriad temptations that thrive in the city. His night, in a strange way, becomes a candle in his darkness, illuminating the way home. Highly recommended.

 © 2006 Infuze Magazine.  All rights reserved.  Used with permission.