Book Talk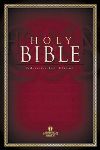 Here's a scary truth: There was a time in my life when I couldn't read certain passages in the Bible. Don't panic, I love the Lord and His Word. It's just that over the years, some passages were so well-worn to me, eternally imbued in some stereotypical shouting preacher's voice – condemning, lacking grace – that I could not separate them out from the text. I couldn't stop the "preacher" long enough for God to speak. I thought I was marred for life. Then something wonderful happened. Someone gave me a fresh version of the New Testament.
The language of those same passages was so different. It allowed me to see them as new – to read them in my own voice. Although the version wasn't the most accurate translation, it helped me through my "dry spell." I found it useful for devotional purposes, but when it came time to "write/create" from Scripture, I went back to my King James Version, because I missed the poetry of it, the linguistic elegance. I found myself wishing that someone could find a way to merge both the fresh, relevant presentation with beautiful language – and make it all accurate.
Someone did. Broadman Holman has released a new translation – the Holman Christian Standard Bible. It's understandable, it's poetic and accurate.
A few months back I brought it to church for a test drive. My pastor, (a scholar who spent the better part of a year's worth of Sundays in Acts) was reading from the New Testament. He loves detail and exposition, as I do.
He read Acts 27. It described the route Paul sailed. With a PowerPoint map and tide patterns, he explained how his text meant that the Apostles went around the coast of Africa. (Clear as mud to me.) I looked down at my Holman Christian Standard. There, in plain English, it said "the coast of Africa."
It seemed too good to be true. Clear, accurate – but how about poetic? While my pastor continued, I looked up some of my favorite Psalms. (Don't tell him.) They were direct but still inspiring, packed with many new, beautiful words that were as lyrical as the King James.
This Broadman and Holman translation is different because it combines two methods of determining text: both the "word for word" method, and the "textural" method. The end result gleans the best from both processes.
It's so inviting that I began a new cover-to-cover reading. I wanted to experience the scriptures through the lens of this book. It has facilitated a freshness that has resulted in my newfound purpose for sticky notes – to mark fresh revelation. My Bible looks like a Mardi Gras float.
In a dry spell? Send the "shouting preacher" to Florida for a long overdue retirement, and enjoy the soul feast in this rich translation.

© 2005 CCM Magazine.  All rights reserved.  Used with permission.  Click here to subscribe.